ABOUT
Promoting the benefits of eating herring to the next generation!
Creating the "desire to give as a gift"

Since its founding, Maruko-Fukuhara has manufactured pickled herring and nuka herring including migaki herring (salted and dried overnight) and others that are only sold by Maruko-Fukuhara in Yoichi. Product development has been continued so that herring dishes are naturally served on household dining tables. Also, actively developing delicacies using herring, Maruko-Fukuhara continues to pursue further possibilities of the food culture of herring.
While safeguarding the "hometown taste" of Yoichi that thrived on herring, new flavors and processing methods are being attempted to continuously communicate the appeal of herring to the next generation.
Extremely popular among children and adults, the delicacy "BAKUBAKU series" is joined by a new "BAKUBAKU NISIN" lineup. New packaging has been designed to make it more suitable as a gift for adults and in addition, a website prototype will be created to promote the product.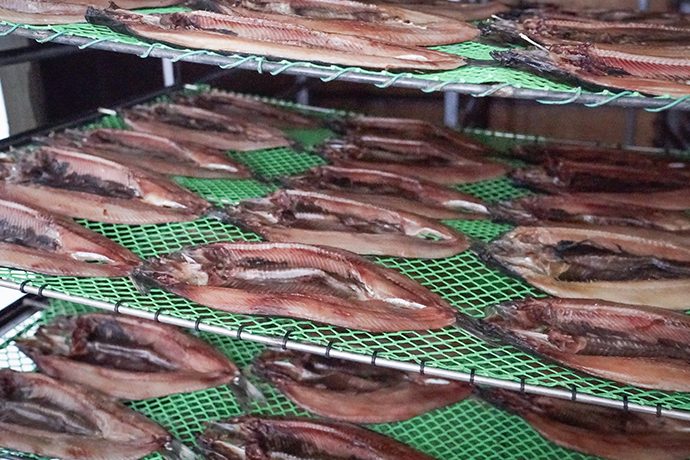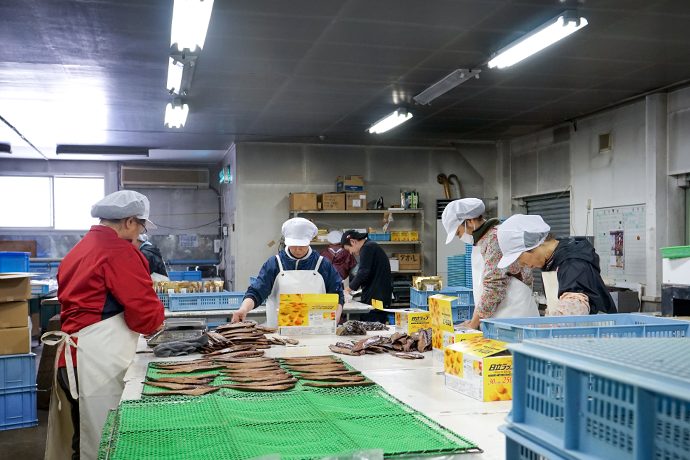 PRODUCT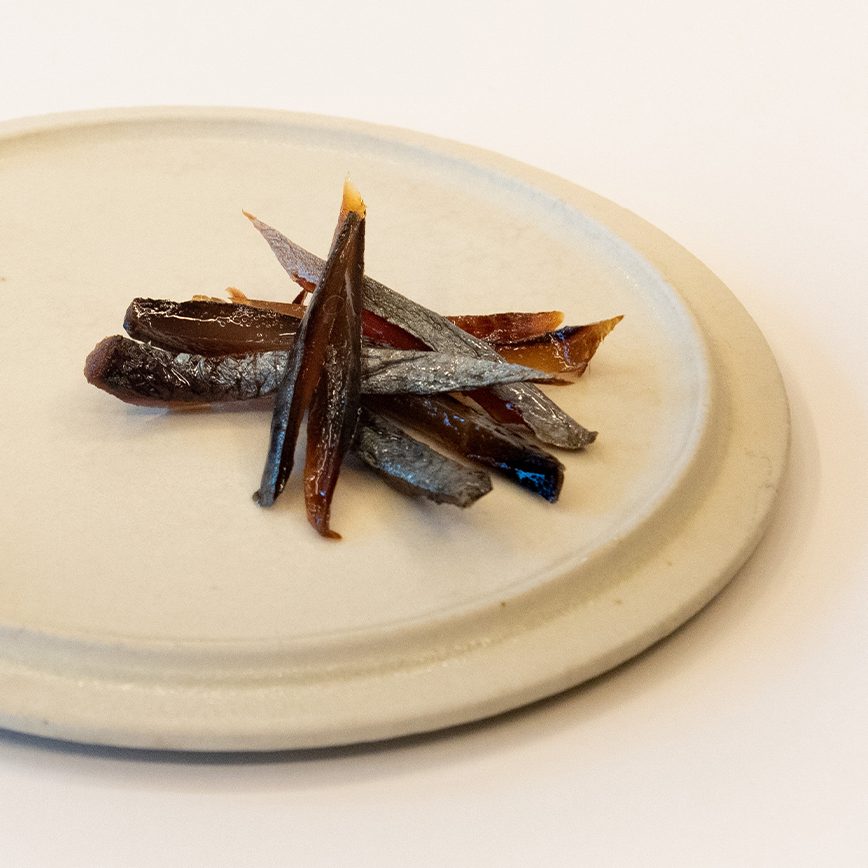 A snack for children or a side dish to go with alcoholic beverages.
The BAKUBAKU series loved by all

Herring was eaten so routinely in the past that in speaking of a popular snack, it had to be dried migaki herring. But now, there are fewer opportunities to eat herring and there are even some who do not know of the herring… So, in order for the deliciousness of herring to be known, Maruko Fukuhara began selling the herring snack "BAKUBAKU series," relished by everyone from children to adults. Herring is cut into easy-to-eat stick shapes and is seasoned with three flavors: red pepper, black pepper, and jerkey. The bones are carefully removed so that children can enjoy the snack without the worry of getting bones stuck in their throat. Popular among women, the pepper star flavor is also recommended as a side dish for beer or wine. Having been widely introduced by newspapers, magazines, television and radio, it is even favored by those who dislike herring, who say "this, I can eat!"
Ingredients
Herring (US origin), soy sauce, sake, mirin (sweet sake), sugar, kelp extract, red pepper, salt
Seasoning (amino acids, etc.) (a portion of ingredients contain flour and soy beans), smoke solution (a portion of ingredients contain flour and soy beans)
*Since the product is in development, it is subject to change.

DESIGN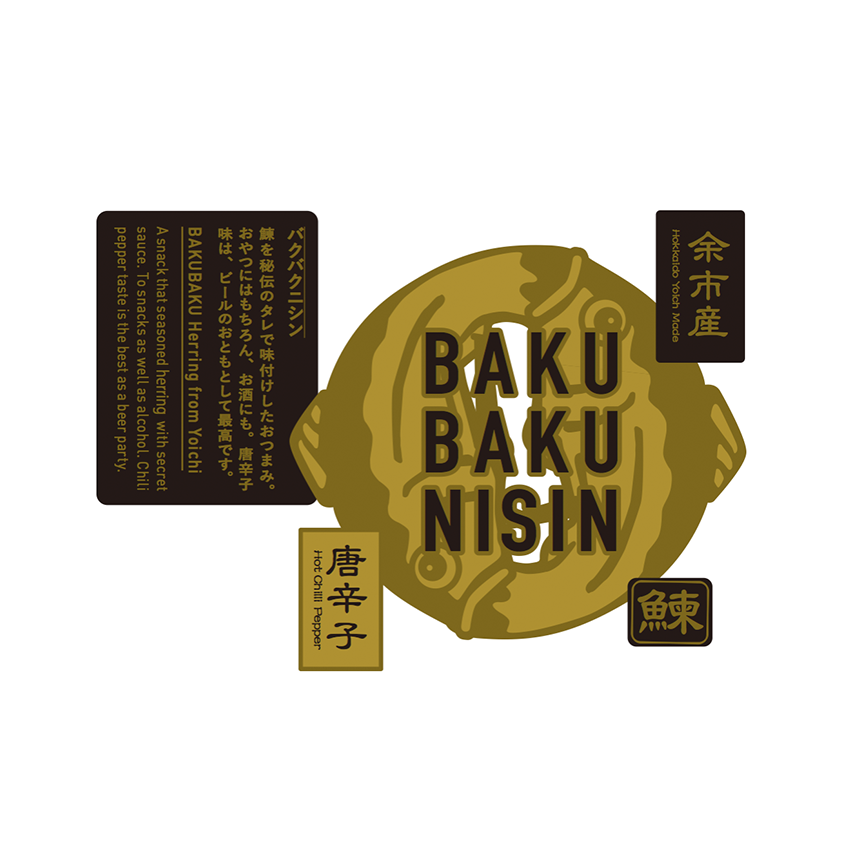 CONCEPT
Raising its value as a gift for adults,
while proposing pairings with alcoholic beverages

Developed as a safe snack for children, the BAKUBAKU series had been a product loved mainly by the locals. But taking this opportunity to be recognized by tourists visiting Hokkaido, the product image has been revamped into an elegant, luxury gift for adults. A package for those particular about food and as a gift for a special someone. The inclusion of suggested pairings with alcoholic beverages for each of the three flavors inspires people to purchase the product.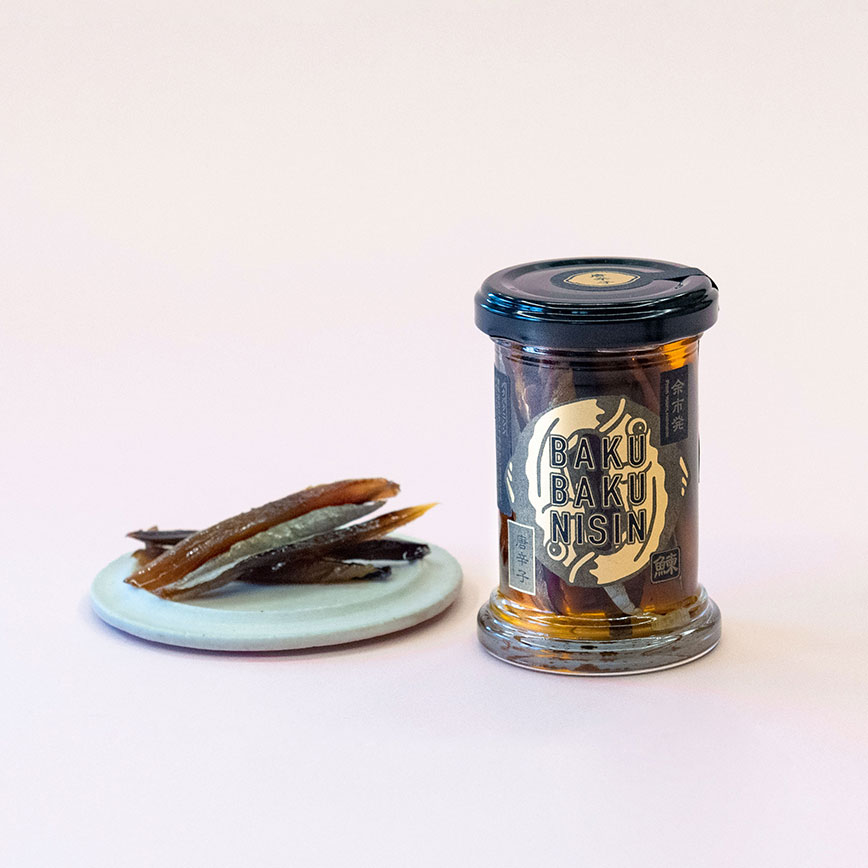 PACKAGE
For inbound tourists from overseas,
an image of Japan and an image of fish

Yoichi is located near Otaru, Niseko, and Sapporo, which are visited by overseas tourists. So, aiming to be a product picked up not only by Japanese tourists, but also overseas tourists, the package design was made typically "Japanese." The illustration in the center of the jar was inspired by a family crest and is arranged in a brand crest portraying fish. One glance conveys that it is a "fish" product. Also, all text on the package is vertical to emphasize the Japanese impression. Furthermore, the sealing wrap of each flavor indicates an alcoholic beverage that goes well with that particular flavor.
COMMUNICATION
Commitment to the product, Communicating the brand image
A website has been created to boost the brand image and product recognition of the BAKUBAKU series, which previously had been buried under other products. Defining the tone & manner, the brand's world view is expressed. Furthermore, to deepen understanding of the product, the product's charms and careful selection of its ingredients are explained in detail with photos and text. The website also touches on Yoichi, such as how it once thrived on herring, to emphasize that the BAKUBAKU series is a product made in Yoichi.
MEMBERS
Kouta Fukuhara

Maruko-Fukuhara Co., Ltd.

Hironori Fukuhara

Maruko-Fukuhara Co., Ltd.

Masatoshi Otake

PORT Package Designer

Yusuke Otake

PORT Web Designer

Mayu Sasaki

Loftwork