ABOUT
A long-established soy sauce store managing 500 attractive products
attempts gift packaging with a more high-class feel
NIHON SHOYU KOUGYO CO., LTD. is a soy sauce store in Asahikawa. Its history is as old as the founding of Asahikawa, and the exterior of its company store still retains the appearance of its long establishment. The soy sauce manufactured has been awarded the Minister of Agriculture, Forestry and Fisheries Award equivalent to the top award of the National Soy Sauce Competition (in 1973, 1979, and 2003), as well as Food Agency Director Award( (in 1977, and 1989), Food Industry Affairs Bureau Director Award (in 2001, 2005, and 2010) and the Award of Excellence (in 2011, and 2016), and its quality is highly rated. Currently, besides soy sauce, Nihon Shoyu Kougyo also develops products like salad dressing that make use of its processing techniques, and a total of 500 types of appealing products are being manufactured and sold, including 200 types of soy sauce and about 300 private brands of various areas in Hokkaido, like processed soy sauce products and salad dressing.
This project presents the challenge of not only redesigning the packaging of the private brand "Chotto zeitaku (tiny luxury) series," but also of building a foundation for sharing information on the appeal of Nihon Shoyu Kougyo in order to stimulate new market development.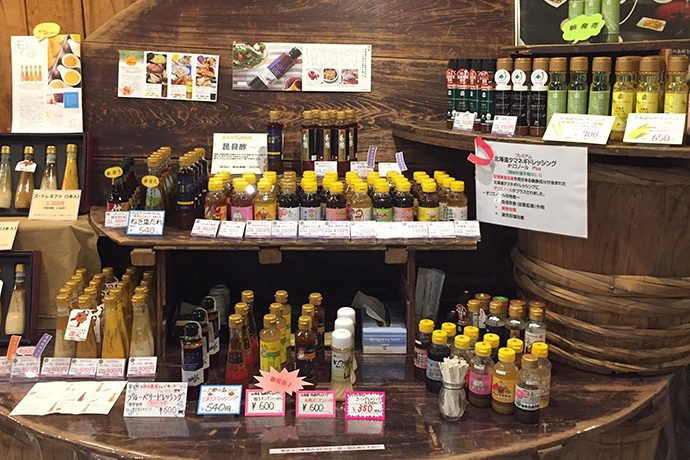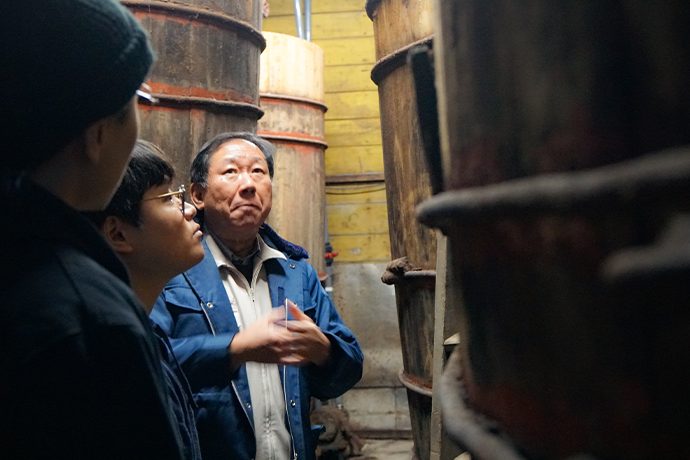 PRODUCT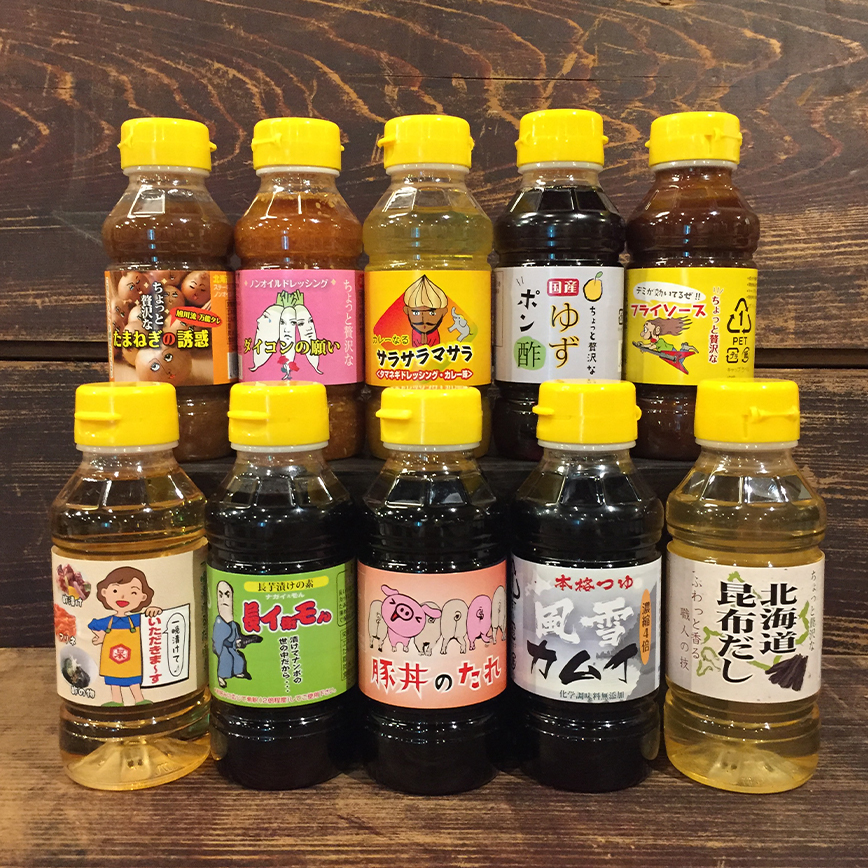 "Chotto zeitaku series" full of the president's humor
and using lavish amounts of local ingredients
As the name suggests, it is a series of salad dressings, sauces, and soup stock that makes full use of local ingredients of Hokkaido. Each product has an abundance of uses and recipes that will richly color your dining experience. Product naming is full of the president's humor, like "Tamanegi no yuwaku (onion's temptation)," "Daikon no negai (daikon's wish), "and "Curry naru sara sara masala (amazing curry masala)." You can feel a familiarity that causes a quiet laugh to slip out. Aside from salad dressing, the series also includes items like "Fusetsu kamuy (wind and snow god), "a genuine soup base that liberally uses bonito and Hokkaido kelp. This "Chotto zeitaku series" now comprises 10 items. This time, the curry-flavor dressing "Curry naru sara sara masala" that uses generous amounts of onions will be redesigned.
Curry naru sara sara masala Ingredients
Edible plant fat and oil, (Edible plant fat and oil(domestic production), olive oil), dice cut onion, grain vinegar, fructose, glucose liquid sugar, soy sauce, salt, curry powder, celery, flour, grated garlic, consomme, black pepper powder / alcohol Seasoning (amino acids, etc.), thickener (carrageenan, xanthan), vitamin B1, caramel color, acidulant (including wheat, milk, soy, chicken)
DESIGN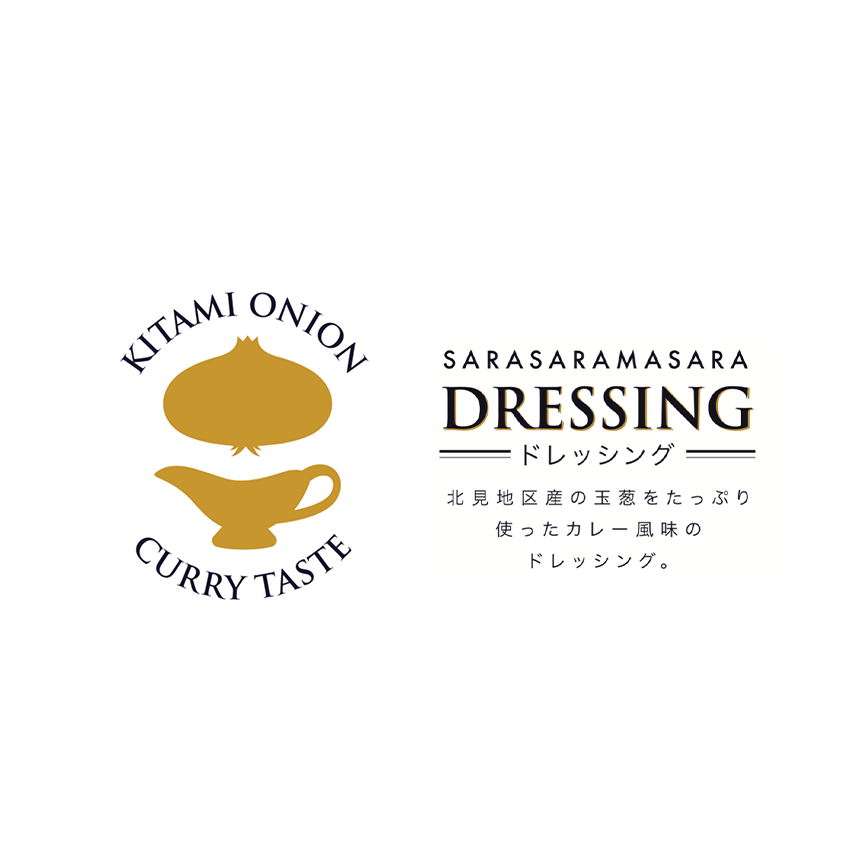 CONCEPT
Packaging redesign
that anticipates new market development
As a Hokkaido speciality, curry is already popular and familiar, especially among tourists from Asia. This time, "Curry naru sara sara masala," which makes the most of that curry flavor, is redesigned. It is a perfect product for inbound tourists who will be increasingly targeted from now on, and the aim is for it to trigger domestic and foreign tourists to purchase the "Chotto zeitaku series" in the future.
Keeping the product name that expresses the humor of President Asari, illustrations are used for the package to visually convey the type of taste and ingredients used. The product logo has also been created anew for easy understanding and a luxury feel.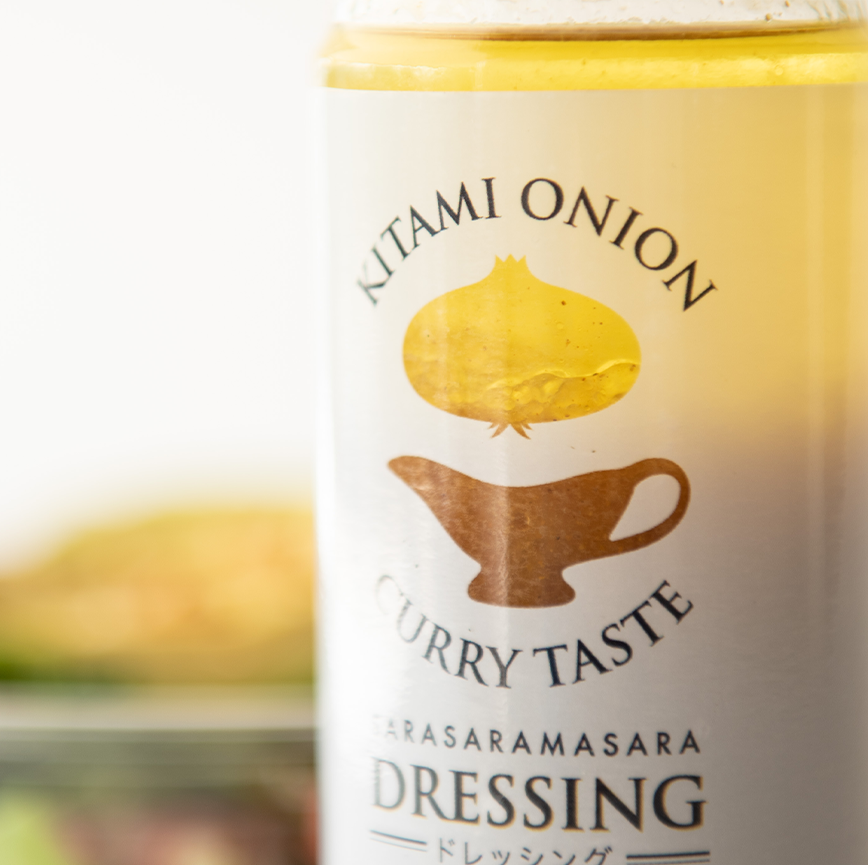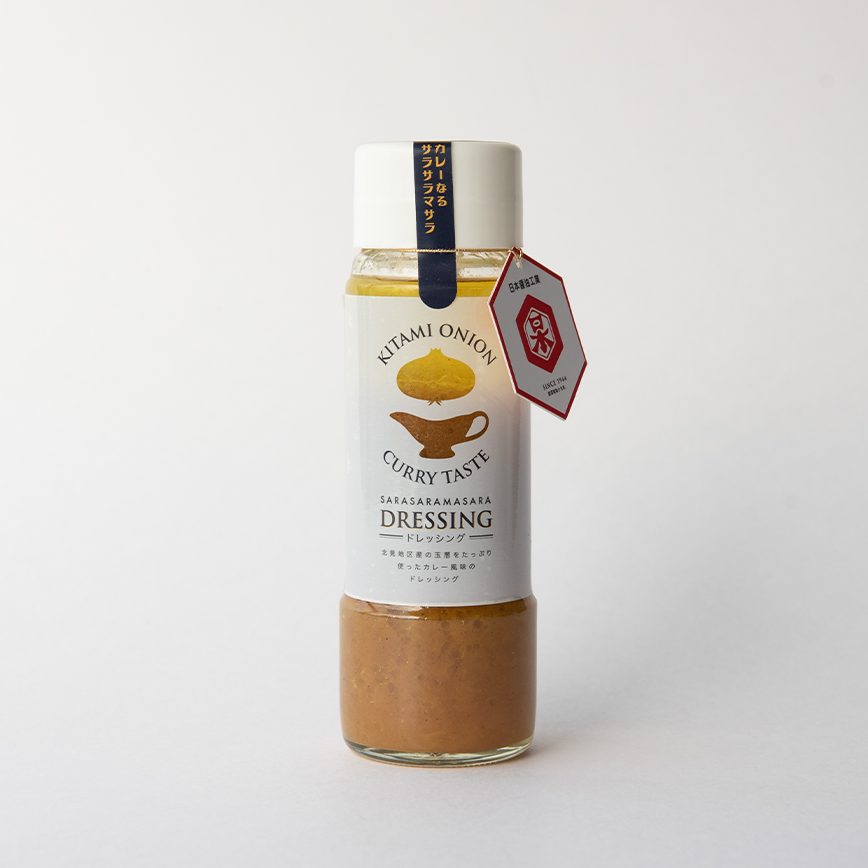 PACKAGE
An easy-to-understand package
and a luxury feel making you want to buy it as a souvenir
Conscious of developing new markets, a product logo was created with the motifs of a soy sauce barrel, which is the identity of Nihon Shoyu Kougyo, as well as the nature of Asahikawa. Using this product logo not only builds brand value and a sense of luxury, it also shows the connection between the product and Nihon Shoyu Kougyo. The Nihon Shoyu Kougyo logo and Instagram QR code are inserted into the product tag. Also prepared are methods to communicate the product's appeal to consumers and for easier sharing. Comprehensibility for inbound tourists is also an important design aspect, so some parts are written in English or use illustrations. The package is designed so that the product itself expresses its appeal for groups that were unreachable until now.
COMMUNICATION
"First make it recognized"
Creating that foundation and communicating its appeal
A trip starts with preparation beforehand. And when people then visit the actual location, an increasing number now enjoy the trip by walking around while searching information with a smartphone in one hand.
It is no exaggeration to say that Nihon Shoyu Kougyo's sole information source was "to have people come to the company store," so most of its appeal was not publicised. The company is now placing priority on "becoming recognized" via the internet. As a first step, it is utilizing Instagram, which people often use when travelling. Hashtags are proactively used, such as the 5 million or so "#Hokkaido" or the almost 400 thousand "#Asahikawa." With this base, activities for "being recognized" by domestic and foreign travelers will be expanded upon.
Furthermore, having consumers access Instagram via the QR code on the product tag will allow the product's appeal to be shared together with consumers.
MEMBERS
Kuniaki Asari

NIHON SHOYU KOUGYO CO.,LTD.

Gen ken

XL-UNIVERSE Package Designer

Akifumi Nakamura

STUDIO SPOON Web Designer

Takehiro Rin

Loftwork
CONTACT
CONTACT

NIHON SHOYU KOUGYO CO.
1-1-2-3 Akebono, Asahikawa-shi, Hokkaido
0800-800-7772(Free access)
E-mail: info@kikko-nihon.com
URL: http://kikko-nihon.com/