ABOUT
Making the most of ingredients specifically produced in Hokkaido.
The new concept pudding as a souvenir from Kushiro
Flanders is a western confectionery shop founded 19 years ago that manufactures and sells western confectionery and is based in Kushiro City. Committed to using
ingredients made in Hokkaido, Flanders continues to make high quality western
confectionery. Local ingredients are used like milk, fresh cream, and cheese that have been ordered from the eastern Hokkaido area, including Kushiro, where dairy farming flourishes. It is loved as a western confectionery store rooted in the region. Currently, there are three directly-managed stores, as well as mail orders from across Japan and overseas, and new challenges are constantly conceived.
Beyond redesigning the package, new products are now being developed.
Furthermore, while re-capturing the appeal of eastern Hokkaido milk, a key ingredient of the pudding, the company's commitment to its manufacturing, never before told, is now made visible. Creating a narrative about the ingredients and manufacturing, a new souvenir representative of the region was created.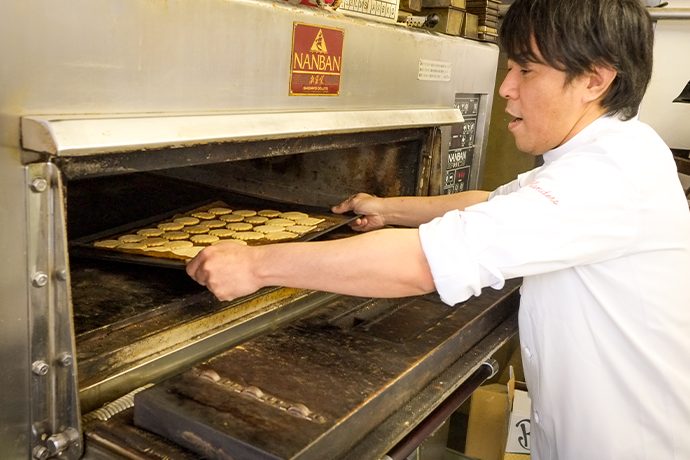 PRODUCT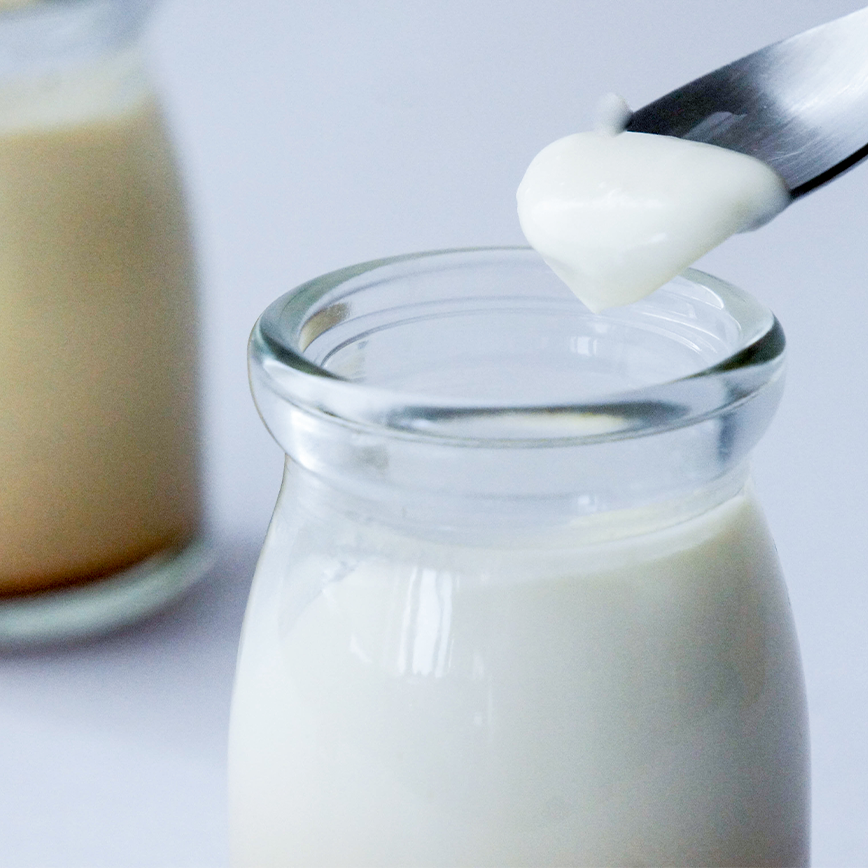 98% of ingredients are products of Hokkaido.
"Kiri no pudding" born from Kushiro's climate and Kushiro milk

The milk produced in Kushiro−famous as a foggy town−is said to be more delicious
than the milk of other regions, because sea fog carries minerals from the sea that
permeate the pasture and milk from the cows that feed off the mineral-rich pasture.
Based on a concept incorporating this fog story and its essence, a new product is
being developed. Using milk and eggs produced in Kushiro, 98% of its ingredients like fresh cream, are produced in Hokkaido. Also, egg white is normally used in pudding-making, but the company uses only the yolk for a rich-tasting finish. And a lot of care goes into bringing out the flavor of the ingredients, such as reducing the amount of sugar to the syneresis limit so the sweetness does not become too strong.
To make the most of Hokkaido-produced ingredients, it is "subtraction pudding" made as simple as possible.
Food ingredient
Milk, fresh cream, egg, sugar, trehalose, flavoring agent
*Since the product is in development, there may be changes.
DESIGN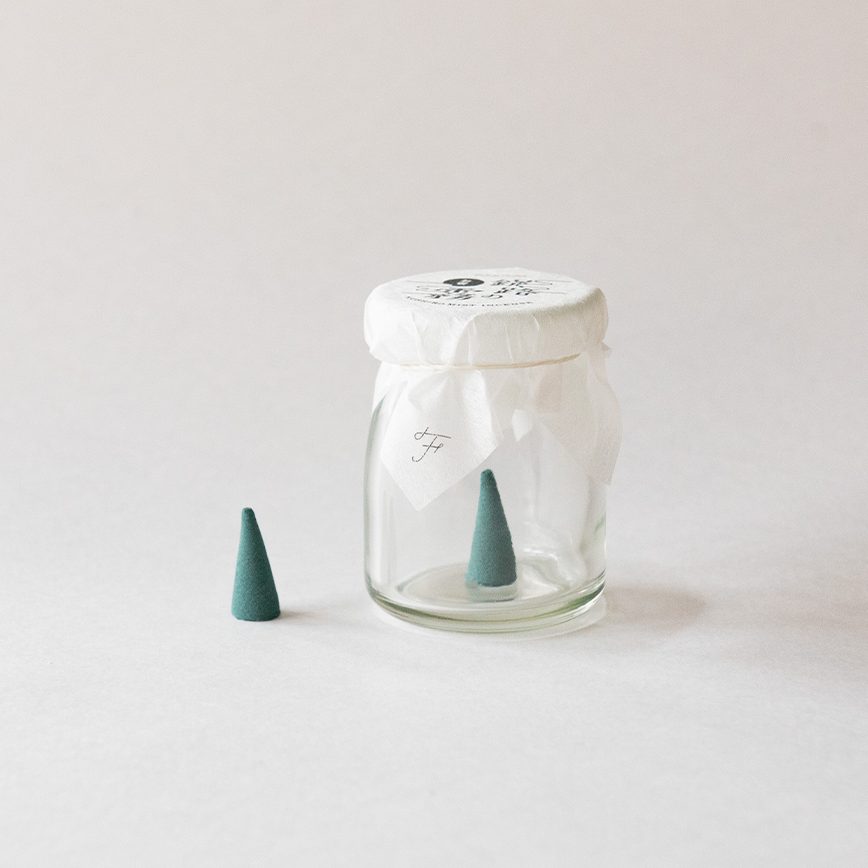 CONCEPT
A design is created with the theme of sea fog.
A new souvenir that digs deeply into Kushiro's appeal
Foggy town Kushiro is said to produce rich milk because the cows feed on pasture permeated with sea fog. With this "fog" as the theme, product development and package design are conducted with this new concept. From the three angles of "flavor," "melting texture," and "color," development of a pudding that evokes an image of fog in those that eat it is undertaken and a unique design for the package that suggests "fog" is also contrived.
Also, a pleasant surprise is prepared for recipients: incense reminiscent of the scent of Kushiro's sea is included as a bonus.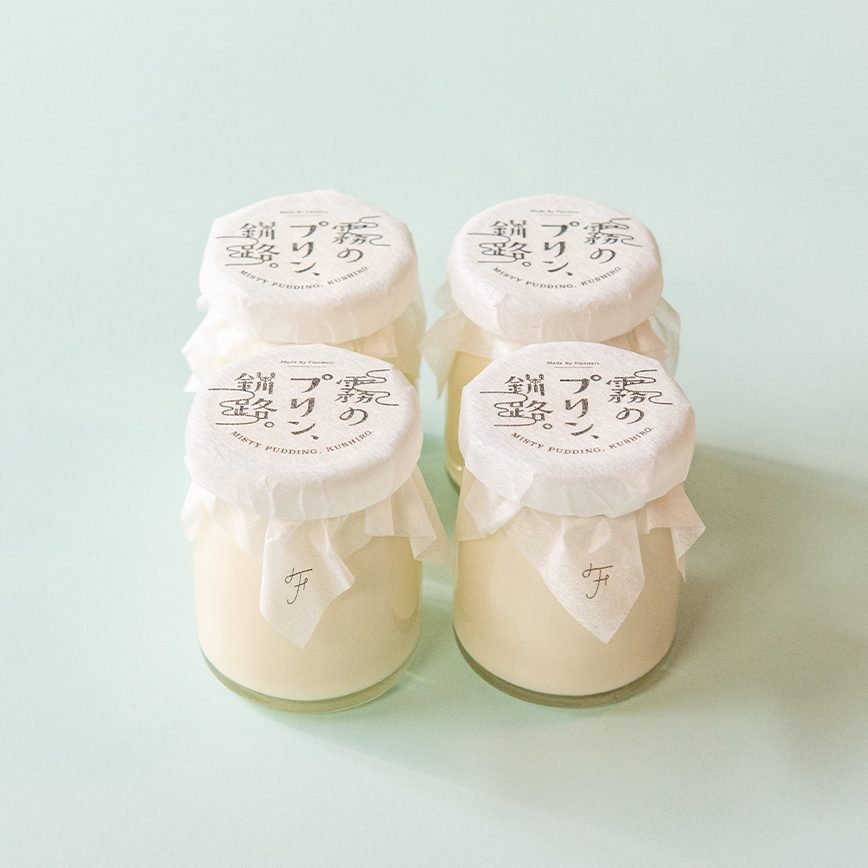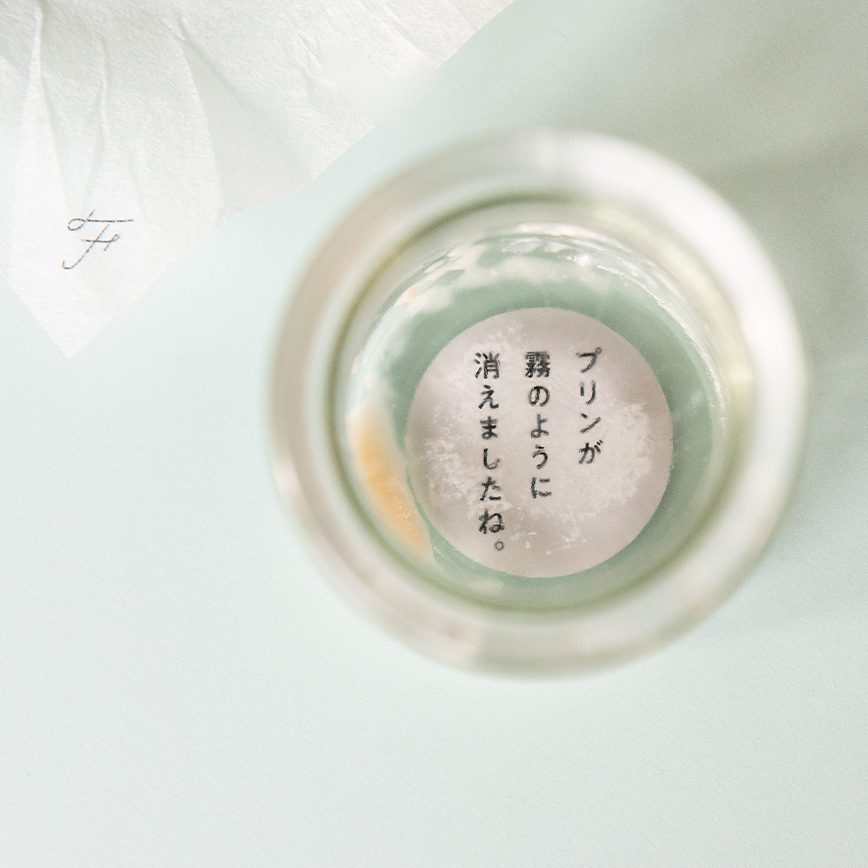 PACKAGE
The scenery of Kushiro wrapped in fog
in a catchy and familiar design
The sight of Kushiro enveloped in fog is often expressed as mystical and mysterious.
One key point was capturing that fog in a catchy and familiar design.
A charming logo incorporates a fog motif and a translucent outer wrapping that is hazy like fog. A thin, soft paper suggestive of fog is selected as wrapping paper for the pudding itself. Aiming to create a souvenir loved by many, the fog motif was uniquely designed with both visual and textural aspects in mind.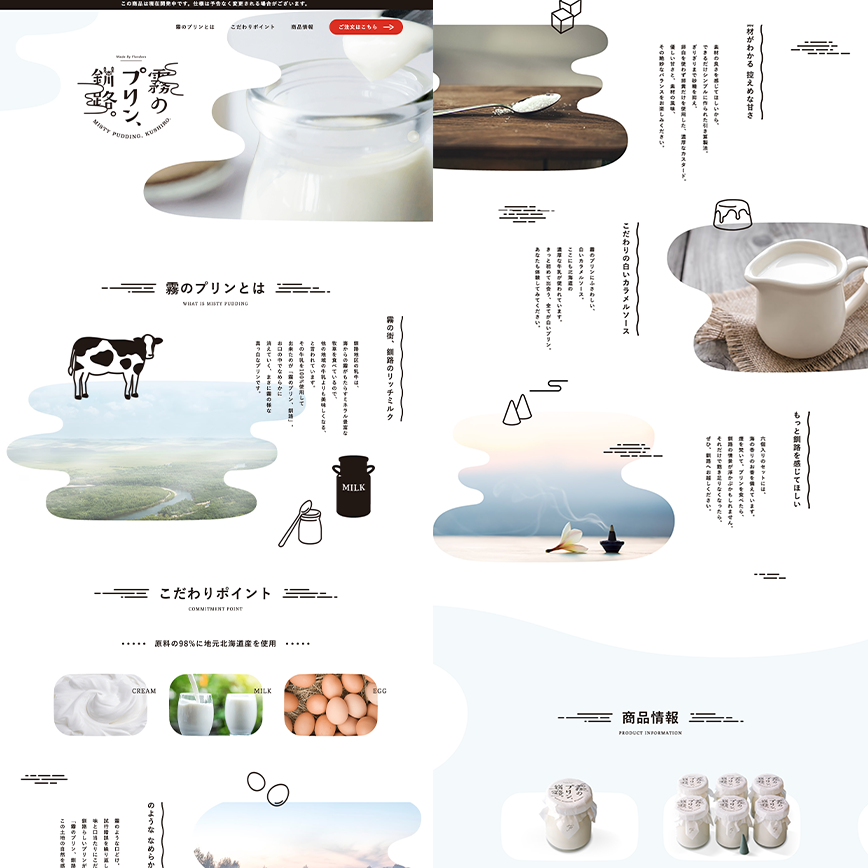 COMMUNICATION
A product introduction website full of playfulness
that communicates the product's story
The newly opened product introduction website is full of the confectioner's commitment to its ingredients and manufacturing. The shopkeeper's views and story are verbalized and edited to communicate an appeal that had not been shared until now.
While based on the package design, the site incorporates various "actions" possible on websites, expressing the world view of "Kiri no pudding, Kushiro." It is a website you can enjoy visiting while learning more about the care that goes into making the product.
MEMBERS
Yuichi Murakami

Flanders

Kenichi Sato

AMAYADORI Package designer

Kei Kaneki

Web designer

Satoshi Muro

Loftwork
CONTACT
CONTACT

Flanders
Ashino Mansion 1F, 2-12-1 Ashino, Kushiro-shi, Hokkaido
0154 68 5039
E-mail: flanders-nero@blue.plala.or.jp