Why do tipplers bar-crawl? Why is it that going to only one bar is just not enough? While your heart, head and stomach (and liver too) are already full up and quite happy, you still go on wandering around looking to become even happier. Am I driven by animal instinct to try marking good bars as part of my territory, somehow convinced that there must be more great watering holes out there?
The streets of Kushiro really touch the hearts of travellers, reminding you of the title of the famous song "Kita Sakaba (North Bar)."  It's time for my night out with my companions from Part One, Ms. Chihiro Nazuka who runs a local media organization,「Kusuro」and DJ SASA, a musician who frequently visits Kushiro. The temperature drops even further in Kushiro after dark - it's freezing cold out there. That makes it even more tempting to find out what awaits beyond those lights scattered about on the streets. The bars in Kushiro are pretty busy even on weekdays or when it snows heavily, and most of them stay open until late. In particular, the Sakaemachi area near the Kushiro River always has something to offer, dotted with unique and characterful small bars. You have no choice but to try different bars here.
The famous Robata tavern, where they serve local specialties one after another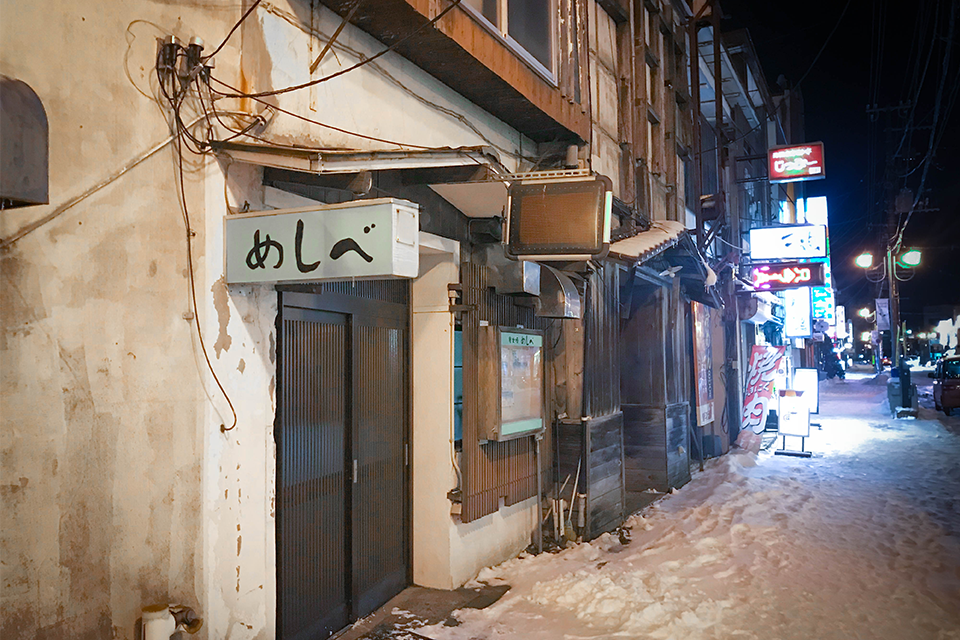 First, we headed to "Robata Omoto," a tavern. It was named after a plant that the founder of this tavern loved. Ms. Nazuka had highly recommended this tavern as well. If hearing the word "Robata" (Japanese style barbeque) makes you swoon, you must be a tippler - needless to say, it is one of the local specialities of Kushiro. It's a method of cooking in which items are prepared on request and cooked on a charcoal grill that gets fired up in front of the customers (or the customers can grill the food themselves). While a theory suggests that it originates from Sendai, Robata spread across the nation from Kushiro, where grilled seafood became popular as it is close to the sea. Indeed, there are more than 100 Robata places in Kushiro today. Robata is absolutely unmissable when out drinking in Kushiro.
Look at this shopfront. There's no way you can just walk past it.

An aged, three-sided table welcomes you as you go into Omoto, ducking down underneath the Noren–curtain at the front door. On the grill at the center, seafood and meat are being cooked with brisk efficiency.
Omoto was founded in 1956 by the mother of Ms. Yoka Takami, the proprietress. Starting off as an Oden (Japanese fishcake stew) stall, it has been based in the present location since 1981. Until a few years ago, this place was open from five in the evening until seven the next morning. Ms. Takami said "I feel myself getting out of shape these days," but despite that the tavern stays open until two in the morning even now, which is impressive. "There used to be a coal mine in the area, so we had a lot of miners here. These days, we get many tourists. This time of year, we used to have people who visited Kushiro to watch Japanese cranes or to fish Japanese smelt, and there also were people who stopped here on the way to Abashiri to see the drifting ice," she said.
First, beers. Cheers!

There is a small, separate dining space at the back of the counter.
The circle of drinking friends gradually expanded, with new people joining us including Mr. Katano, who is in charge of reporting on booze for Kusuro, and is also the owner of a local souvenir shop. Interacting with local people is one of the joys of travelling.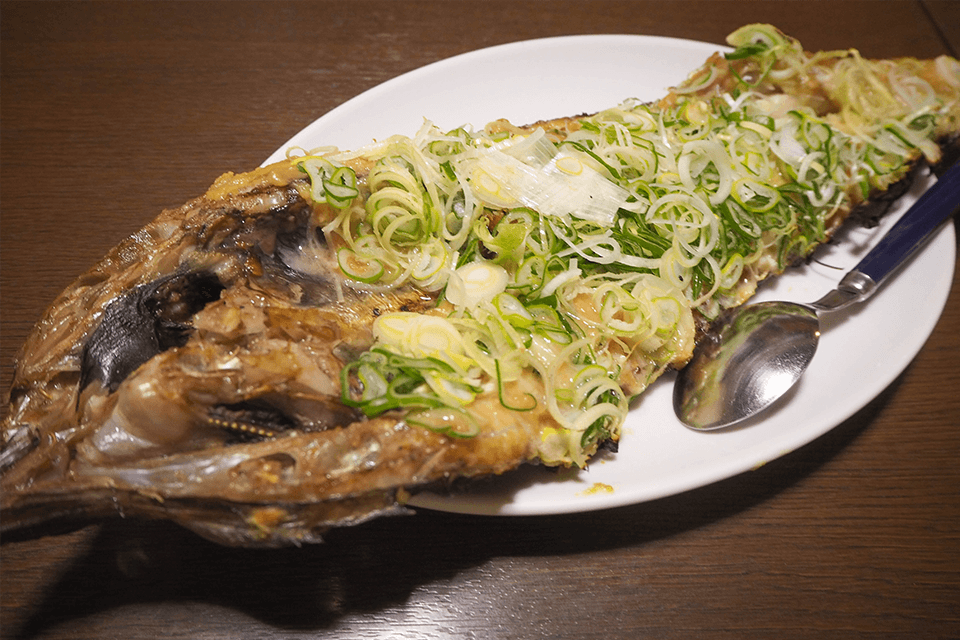 The fish brought to us was so big it didn't even fit on the plate! The fish is cut open, coated with Miso and sprinkled with plenty of finely-chopped green onions. Apparently, the locals call it "warship grill." Hakkaku is a rare fish that is not commonly found outside of Hokkaido. It looks rather peculiar, like a monster; however, it is actually a premium fish and is quite exceptional. It's a mild-flavored white fish with soft, juicy, fatty and delicious flesh. It is said that winter is the best season for Hakkaku. Mr. SASA then told us that Ika-goro-yaki (grilled squid stuffed with its intestines) was also good here.
The proprietress brought us the Ika-goro-yaki.

A close-up photo of the Ika-goro-yaki.
What is this amazingly intense, rich flavor? It goes perfectly with sake and demonstrates how brilliant squid really is.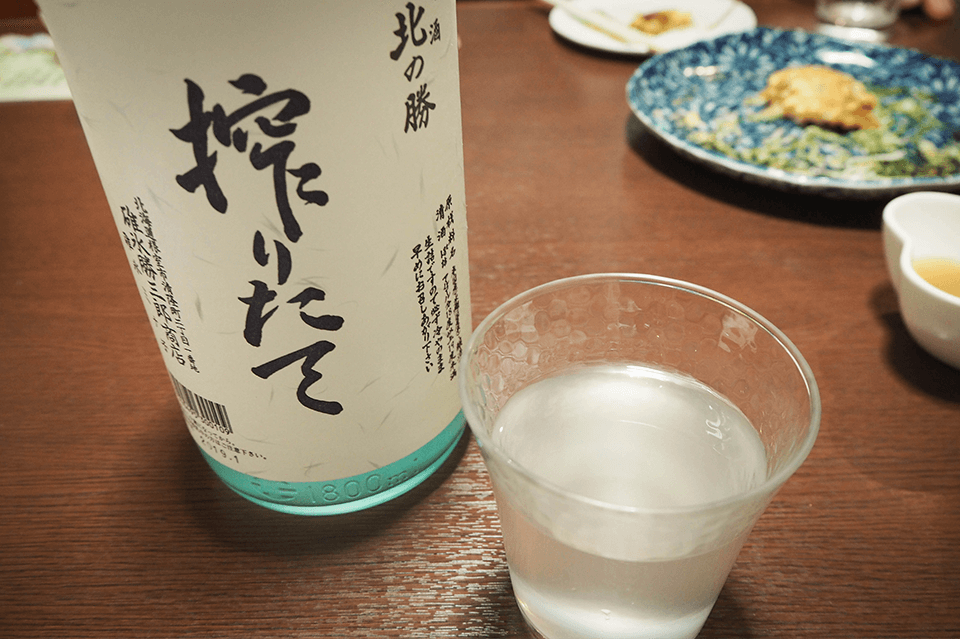 "Kita no Katsu" is a sake brewed in Nemuro. We were lucky enough to have the mythical "first squeeze," which is released in limited quantity in mid-January every year. It is so popular that local sake shops always have people waiting in line on the release date. It has a clean, fruity taste that is so smooth to drink.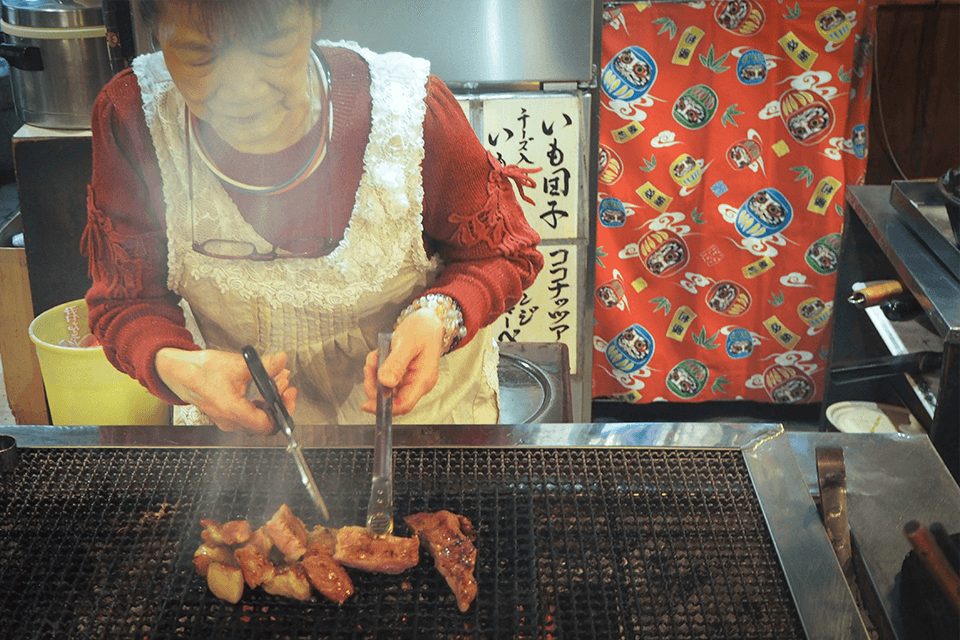 Akan Pork is branded pork that comes from a farm next to Kushiro Marsh. The meat is marinated in a mixture of soy sauce and grated ginger, and then char grilled. The roasting aroma fills the place up, with everyone looking at the grill intensely.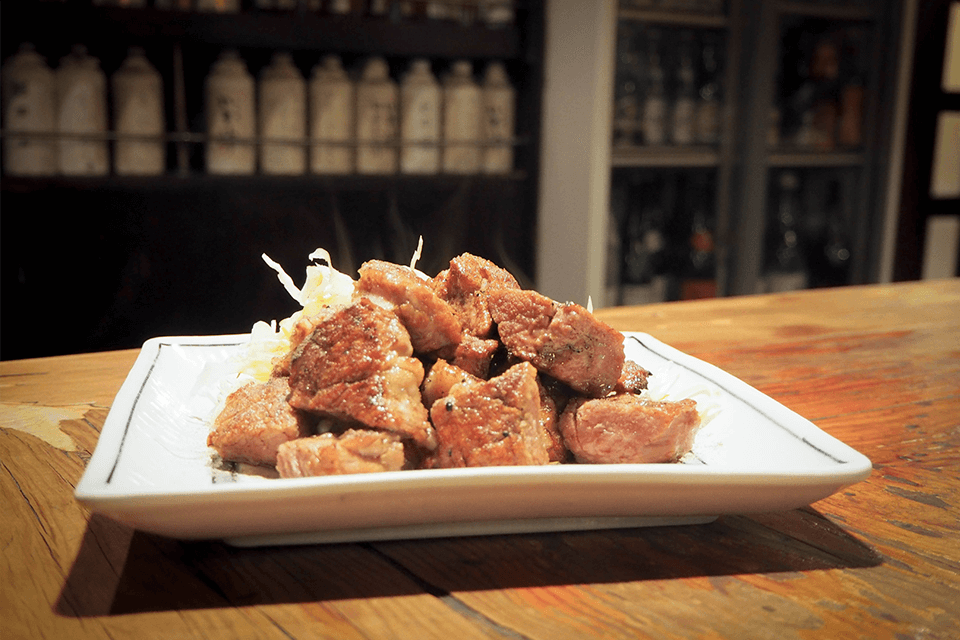 Juicy and flavorful meat with a soft, plump texture. Everyone's chopsticks descended on the dish and the meat was demolished in the blink of an eye. Was it an illusion…?! Mr. SASA was astonished by how tasty it was. It proved that Kushiro is not only about seafood.
Finally, an omelette to wrap it up.

And the frying pan was amazing too.
It is a popular secret dish at Omoto. Although it looks like an ordinary omelette, it is seasoned in an exquisite balance of sweetness and saltiness, which goes so well with sake. The proprietress says that she uses a secret recipe!
I was flabbergasted when the proprietress showed me the frying pan she uses to make omelettes, saying "Nothing but this will do." She says that it has been used for more than 50 years, but even so, it is extraordinary how bent it is. It is impossible to bend anything so much even with psychic power. This must be the secret behind that delicious omelette!  Seeing this frying pan alone made my visit to Kushiro worthwhile.
Though I felt like ordering many more dishes here, it was time to go to the second place (in fact, before coming to Omoto, we stopped at Kushiro Fisherman's Wharf MOO to try "Sanmanma," so it will actually be the third place). Thank you so much for the great food!
Robata Omoto

4-2 Sakaemachi, Kushiro City, Hokkaido 085-0013
Opening hours: 17:00-5:00 next morning (Closed on Mondays)
Cash only, no credit or debit cards accepted
A fun night out in Kushiro continues at the second and third places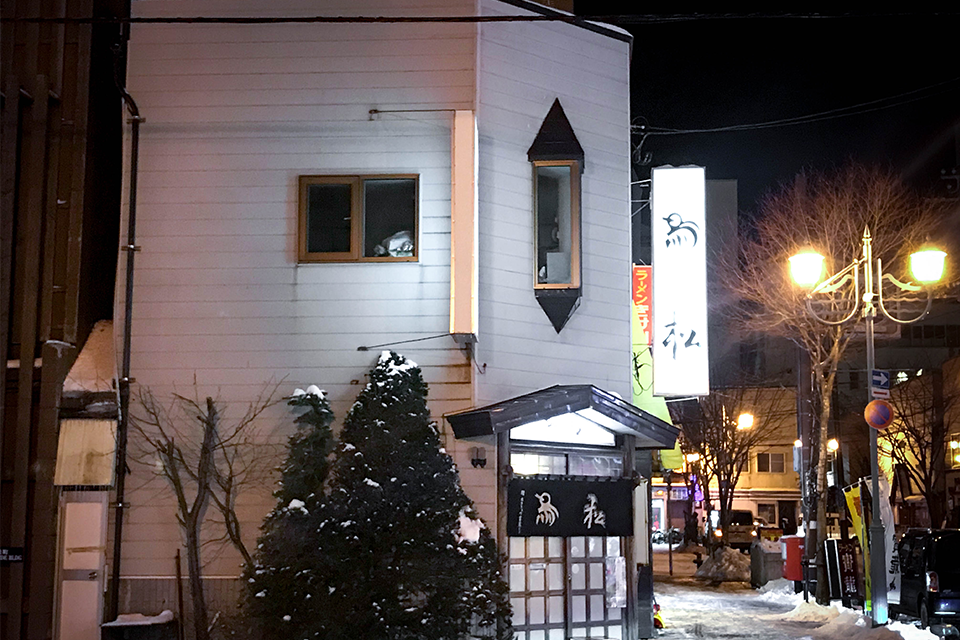 Kushiro is said to be the birthplace of zangi. Hmm, what is zangi?? Well, basically it is what Japanese-style fried chicken is called in Hokkaido. There are, however, different interpretations among Hokkaido locals: some say that chicken should be seasoned before being fried, others say that it has to have a strong flavor, or that it's the same as ordinary fried chicken, or that zangi is just zangi. It seems that there is no clear answer to that question. In any case, zangi is soul food to Hokkaido natives. And Torimatsu is said to be where it originated.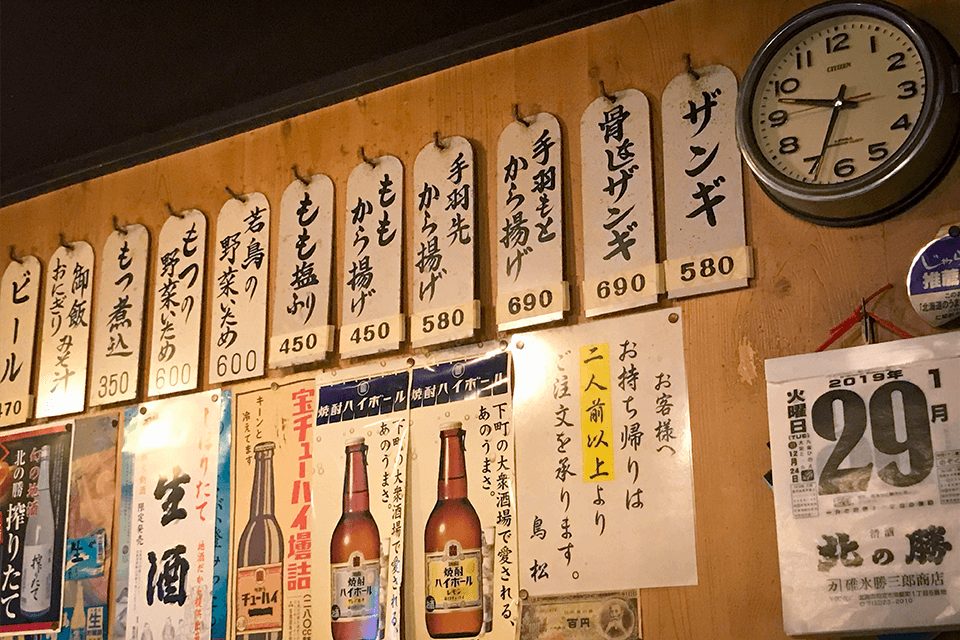 Torimatsu opened in 1960. When they had just opened, they bought a whole chicken, which they chopped up and deep-fried, then served to customers - this was how zangi started. So the original zangi on the menu is bone-in and made with different parts of chicken. Today, they also have boneless zangi using chicken thighs. They use chicken farmed in Hokkaido, thoroughly marinating it in a sauce made with ginger, garlic and soy sauce before deep-frying it. Freshly fried chicken is crisp and so juicy inside! It's so tasty, it seems almost criminal. And it makes you drink more beer too. It is good as it is, but with the Torimatsu's original secret recipe sauce, it tastes even more flavoful and so morish!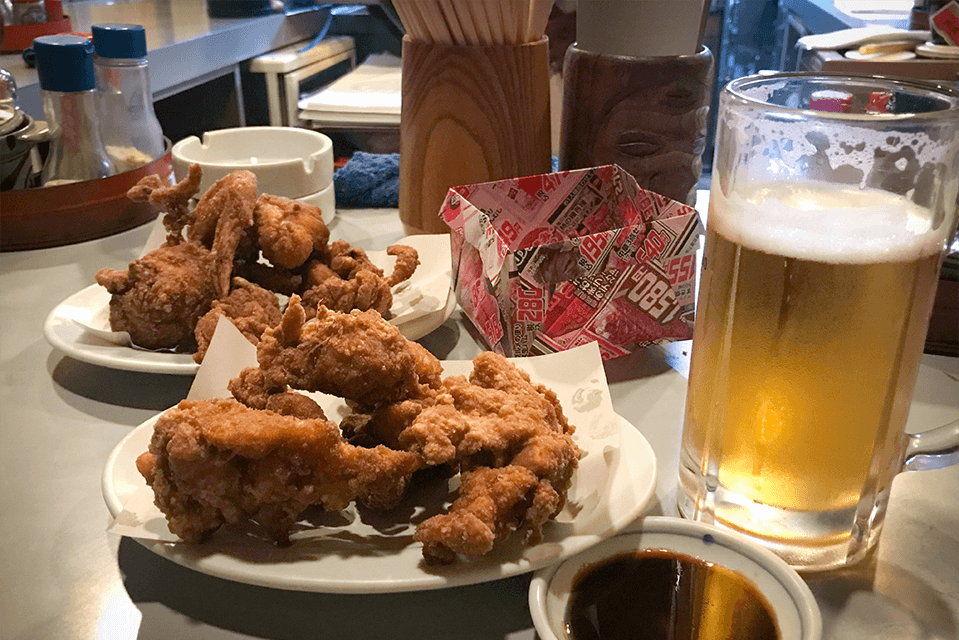 You can also take it out as a souvenir, and a lot of the locals buy it here to eat at home. The U-shaped counter is always full of customers and has a lively atmosphere. One of the customers was from South Korea and had come to Kushiro on a business trip. Being packed in a compact space makes it easy for strangers to casually start and enjoy conversations. It's fun!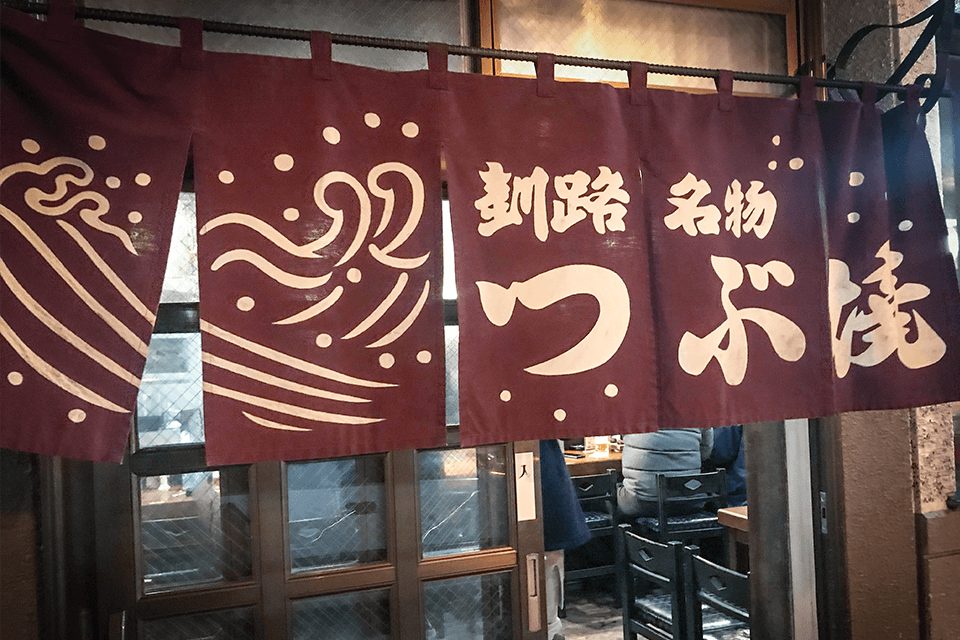 We then visited "Tsubu-yaki Kadoya," established in 1966. The place was so crowded - according to Mr. Nazuka, Kushiro locals often have Tsubu-yaki (grilled whelk) to finish off the night. Apparently, the later it is, the busier it gets. The smell of roasting shellfish and soy sauce fills up the place. Despite the fact that I had eaten enough already, my stomach started rumbling again.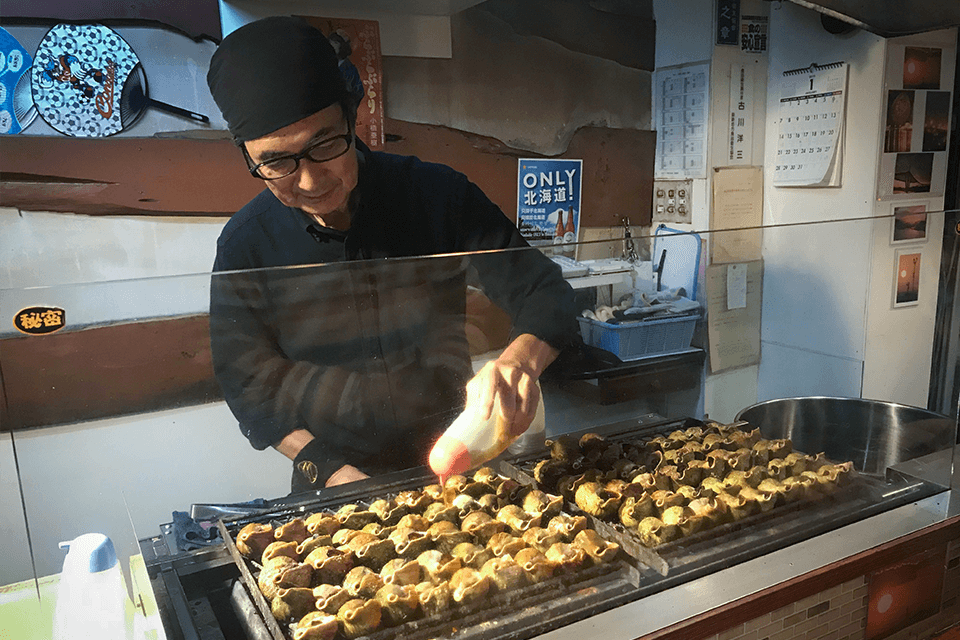 It is a very time-consuming process to prepare whelks: they use the Barbitonia Arthritica variety with big shells, grill them all day and leave them to stand overnight, then grill them again the next day. Freshly grilled whelk is seasoned with a secret sauce (seaweed broth based) that was made when the restaurant was established and has been topped up ever since, then served to customers piping hot. First, let's down the stock that fills up the shell. Oh my, of course something like this has to be delicious! Next, using the accompanying bamboo skewer, twist the plump whelk out of the shell, and eat it in one bite. The chewy texture and gushing flavor of the shellfish… I endlessly envy the Kushiro locals who casually eat something so extravagant.
I'll spare you the details, but after this, we had black ramen, another specialty at Kadoya, and then we headed to France Sakan, a retro coffee shop, where I had a parfait (this place is good for a late-night tea, since it stays open until midnight!), then Mr. SASA met a local friend and disappeared in the darkness of the night, saying they were going to another bar. It was a hugely satisfying bar crawl, where I ate up all the classic delicacies of Kushiro, one after another! I wish I had a bigger stomach.
Torimatsu
3-1 Sakaemachi, Kushiro City, Hokkaido 085-0013
Opening hours: 17:00-0:30 next day (Closed on Sundays)
Reservations not accepted. Cash only, no credit or debit cards accepted.
It's below freezing every day in Kushiro - and it's still full of fun
The temperature the next morning was at least minus 13 degrees C.  At this level, the coldness is an attraction in itself. Mr. SASA, who was drinking until late last night, said that he had been taking a walk since early morning, and showed me a photo he took of the striking "pancake ice."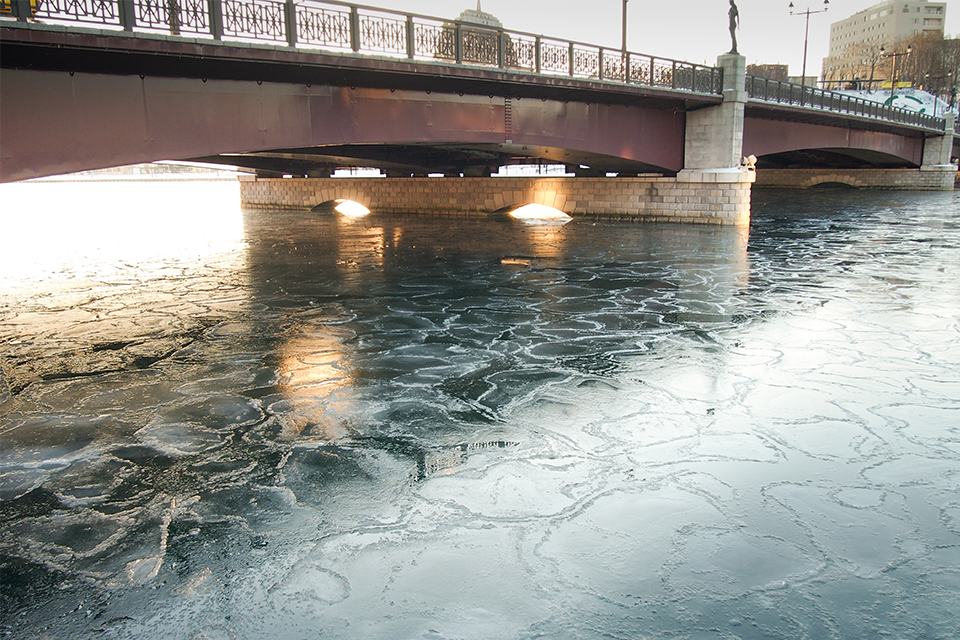 Pancake ice is like baby drift ice, and you only come across it in midwinter. Pieces of ice with a flat surface and slightly raised edges like lotus leaves blanket the river surface, creating a fantastic scene. The outside air temperature was almost painful rather than just cold, but it's worth seeing the pancake ice, as well as experiencing this coldness! Be quick to take photos though, as smart phones can easily shut off by themselves at this temperature!
We had Katte-don (meaning "self-service rice bowl," a system where you put as much as you like of your choice of seafood on the rice) and beer for breakfast at Washo market. After that, we visited our last alcohol-related destination to buy some souvenirs. "Hikoyachiya" is a wine shop located in a residential area a little away from the city center, with a selection focusing on natural wines. The gentle-mannered shop owner who is knowledgeable and passionate about wines is happy to help you choose wines. There was a small selection of Hokkaido wines as well! While Japanese wines have been growing in popularity in recent years, Hokkaido is attracting particular attention as a wine-producing region, with unique, small-scale wineries emerging every year.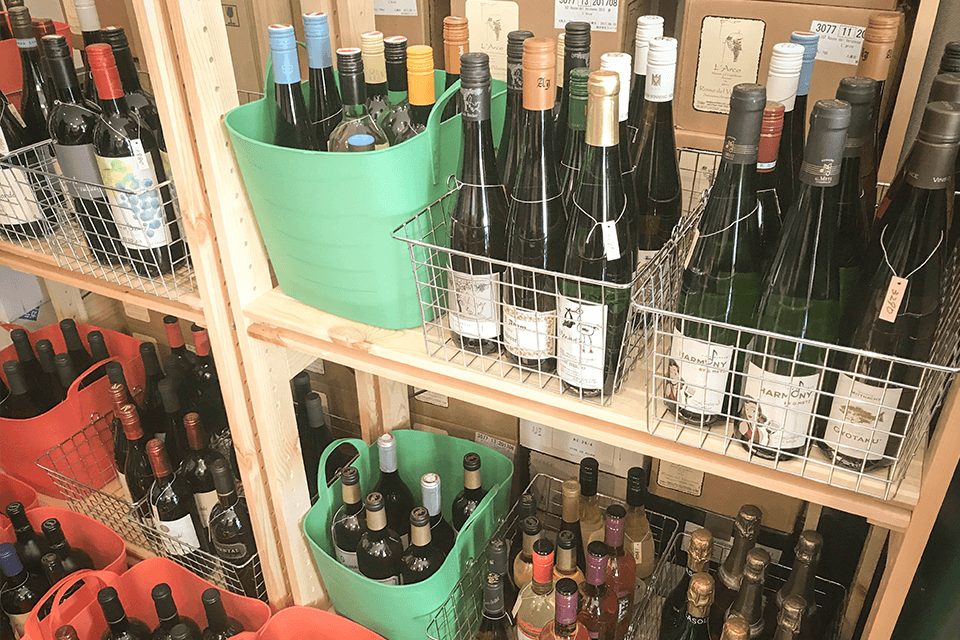 Their selection includes everything from reasonably priced everyday wines to ones that are rather rare. If you have a great conversation with the owner, he might even get a bottle of rare wine to show you?! As there is no winery in Kushiro, I bought a bottle each of wines made in Yoichi and Kami-Furano respectively. Another great thing is that they offer a delivery service as well. The wines were delivered at a later date, accompanied by a courteous letter in which the owner kindly listed the shops in Tokyo where the wine I was thinking about buying at his shop was available.
petit cellier Hikoyachiya
5-26-24 Mirorigaoka, Kushiro City, Hokkaido 085-0814
Opening hours: 11:00-19:00 (Closed on Tuesdays and on the first and the third Mondays of the month)
TEL: 0154-65-1617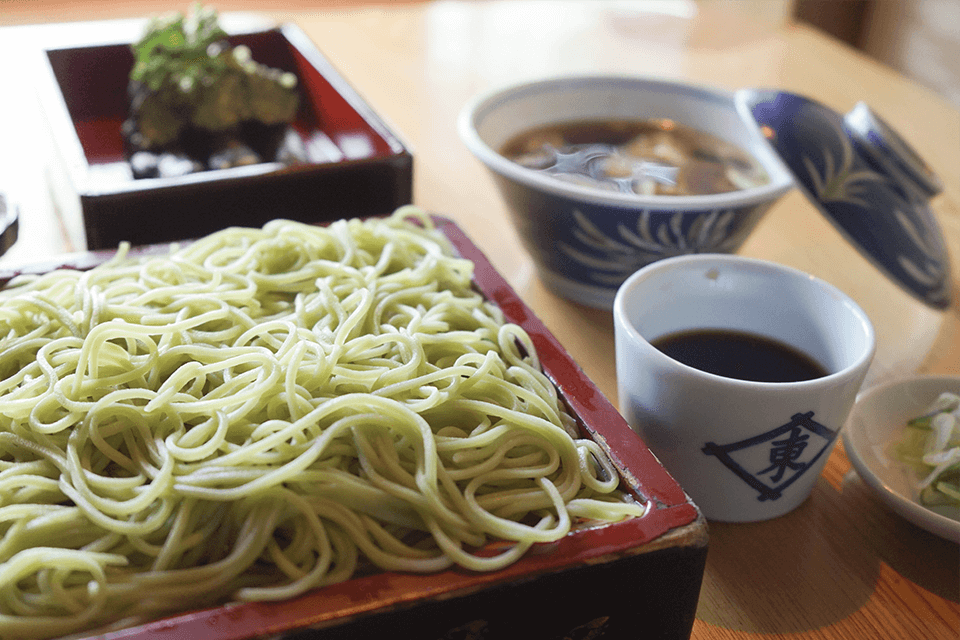 We headed to "Chikuroen Azumaya Head Office" for our last lunch in Kushiro. Although people tend to think only about seafood when in Kushiro, the city actually has a number of great soba restaurants as well. Chikuroen is a long-established restaurant founded in 1874. The slightly greenish color that characterizes their soba originates from an ingenious technique invented by "Kanda Yabu soba," where they started making green noodles so that the customers could always enjoy the feel of having soba made from freshly harvested buckwheat, regardless of the season. Other soba restaurants nationwide then followed suit. At Chikuroen, they adhere to the traditional method of soba-making that has been handed down for generations. They pay meticulous attention to the dipping sauce as well to make sure it has a well-balanced taste that brings out the flavor of the soba, rather than overpowering it.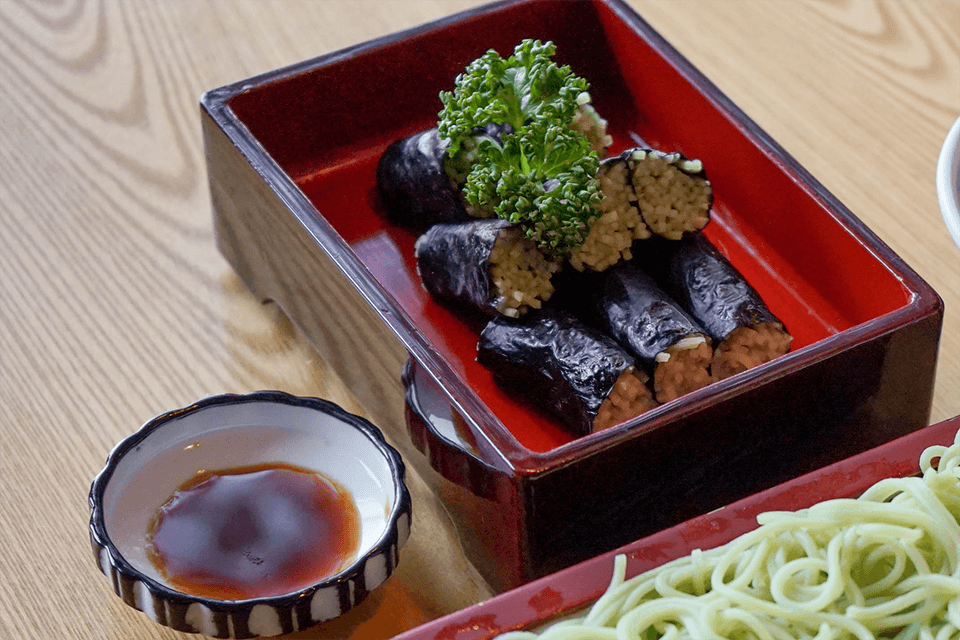 And you should also order soba sushi on the side. The owner of the restaurant two generations back invented it in around 1950, after a long process of trial and error. It is soba noodles soaked in special sugared vinegar wrapped in a seaweed sheet along with grated ginger instead of wasabi. The combination of the sourness and the sweetness creates a soft and elegant flavor that makes it perfect to snack on as you drink. You can also take it out, although they say it is the best to eat it freshly made. Part of the building was built around 1927, which gives the place a flavor of the good old days.
Chikuroen 3-19 Kashiwagi-cho, Kushiro City, Hokkaido 085-0814
Opening hours: 11:00-18:00 Private rooms 11:00-16:00 (Last order 15:30) (Closed on Tuesdays)
http://chikurouen.com/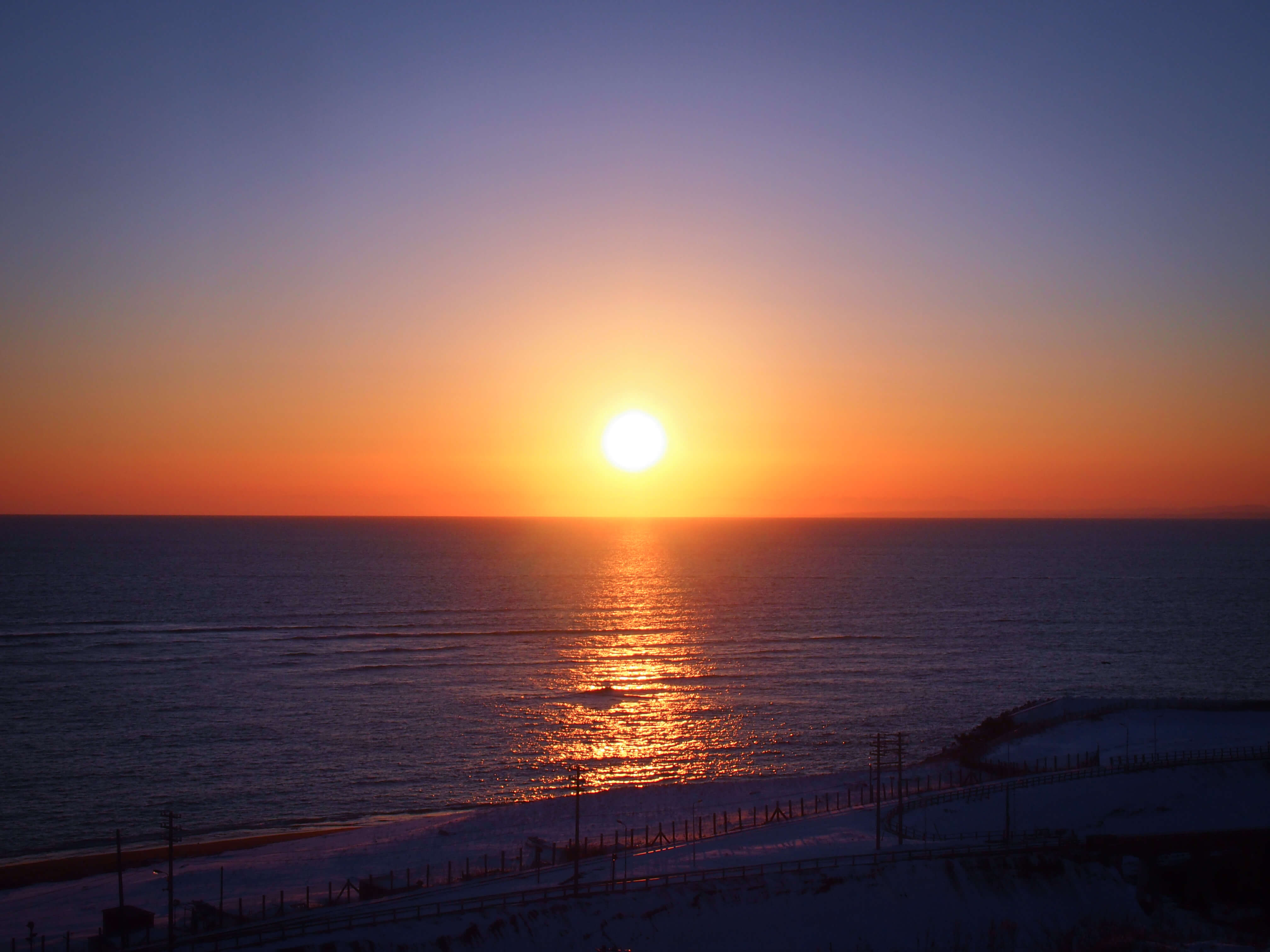 My days in Kushiro passed by like a flash. Whenever I think about my trip, it makes me want to go back there even more so that I can try going to different places and eating more new things. Having made some dependable local friends, I look forward to my next visit even more. I love Kushiro!
Bonus: Funny, interesting and rare sights I came across in Kushiro
A Marimo (aegagropila) signboard, abruptly attached on a road sign. You often encounter this kind of silent PR for Marimo around here, as it is close to Akan Lake.

Of course, "Marimo" is on taxi roof signs as well. Written in Hiragana, it looks cute.
An eccentric-looking building I suddenly came across. One of the buildings scattered all over the city that was designed by Kiko Mozuna, an architect from Kushiro.

Pretty roses blooming at a market. Though they look like handicrafts, they are in fact made of dried kelp! They are handcrafted by the wife of the shop owner.
No ketchup please, as sugar-coated corndog is the norm for Kushiro locals! It's surprisingly good.

A claw machine with live crabs in it, standing quietly. A pinch-or-be-pinched situation.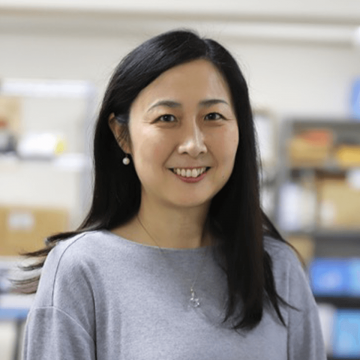 Kaori Ezawa

A writer who mainly writes about food, travels and crafts. She runs "Dame Ningen Matsuri (Losers' Festival)," an organization whose main activity is visiting sake breweries. Her main works include "Wondering about in Aomori and Hakodate - Crafts, architecture, gourmet food" (Diamond Inc.), "Travelling in Sanin - In search of local crafts and food," "Travel guide for the drunk - Wines, nibbles and crockery" (Mynavi).

Instagram:caori_ez_japon