You should be careful saying things like "I'm freezing to death." I don't know how many times I felt I might actually die while I was in Kushiro during winter (so cold that the phone screen turns black). Below freezing is the default here. What is it like to be in Kushiro in midwinter, where below freezing is the norm and part of everyday life?! Feeling slightly scared, I arrived in Kushiro, and there I encountered so many fun and interesting things beyond my imaginings!
Head to Akkeshi to enjoy Kushiro 200%!
As soon as I arrived at Kushiro Airport on a flight from Haneda, I headed to JR Kushiro station by bus. My guides for this trip were Ms. Chihiro Nazuka who runs local media organization "Kusuro" and DJ SASA, a foodie-musician who loves and frequents Kushiro. I met up with this cheerful bunch at the station.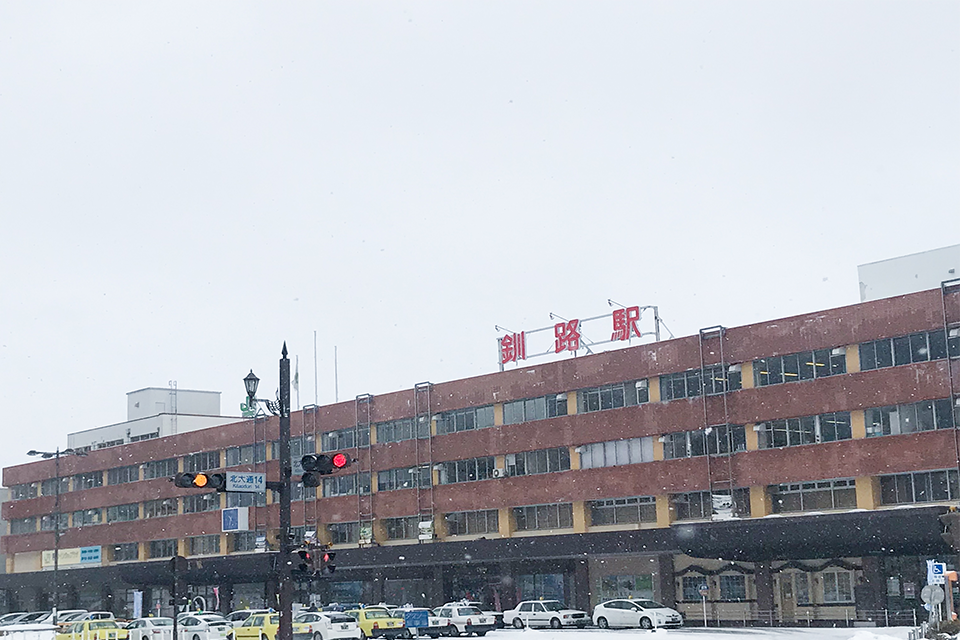 JR Kushiro station is so retro. It is rare to find such an austere-looking building these days. It is one of the few remaining "people's stations" (stations jointly financed by the national railway at the time and local businesses). When you walk into it, it's weirdly touching to find a shop specializing in old stamps, or another selling rice balls that look like they've been handmade by moms. As I was a little peckish, I had a quick look at the rice balls on display: there were ones using local ingredients that you can only eat in Hokkaido such as venison, zangi (what Japanese style fried chicken is called in Hokkaido. Refer to Part Two for the details) and sugared beans in red rice! I decided to get a few to snack on in the car. I found the one with sugared beans and red rice particularly fascinating. The exquisite balance of the sweetness of the beans and the saltiness of the rice makes it so addictively delicious. At first, my travel companions were looking at the rice balls as if they were something peculiar, but they ended up competing for them and finished them all. This combination you rarely see on the mainland was a new discovery.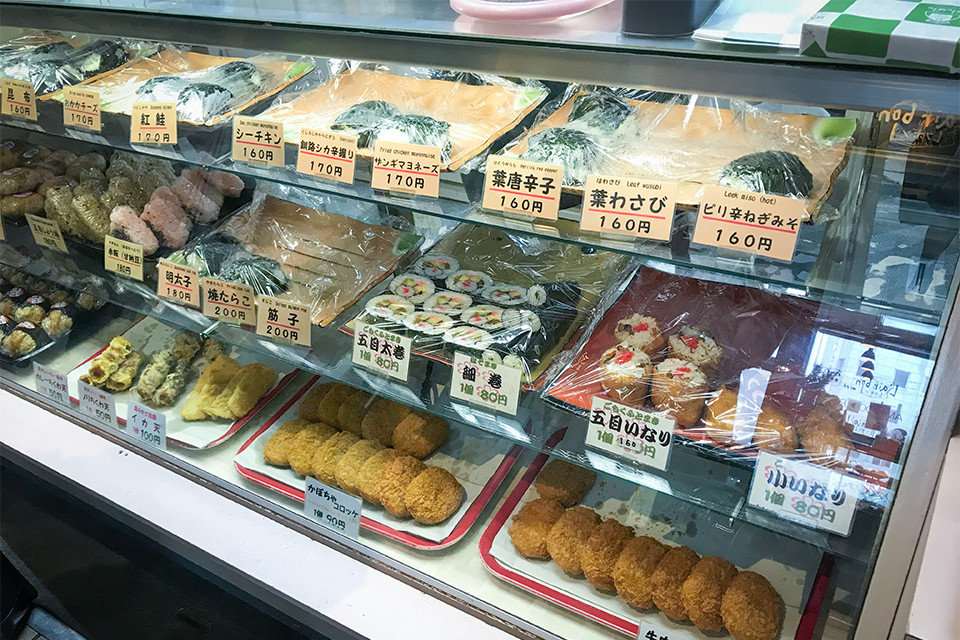 Oyster tasting in the oyster sanctuary & a barbeque bonanza
Our first destination is Akkeshi, a port town on the Pacific coast about an hour's drive from Kushiro. As any oyster lover knows, this is a region famous for its oyster production! There is even a theory that the name of the area Akkeshi means "where many oysters are" in Ainu. "Akkeshi Flavor Terminal Conchiglie" is a tourist facility on a hill overlooking Akkeshi Bay. Its satisfaction level among visitors is high enough for it to be called the sanctuary of oyster lovers. They are so popular during the summer sightseeing season that they have many people waiting in line, but it's not that crowded in winter! On top of that, I heard that Pacific oysters are especially tasty from winter to early spring! This is the best time for true oyster lovers to visit here.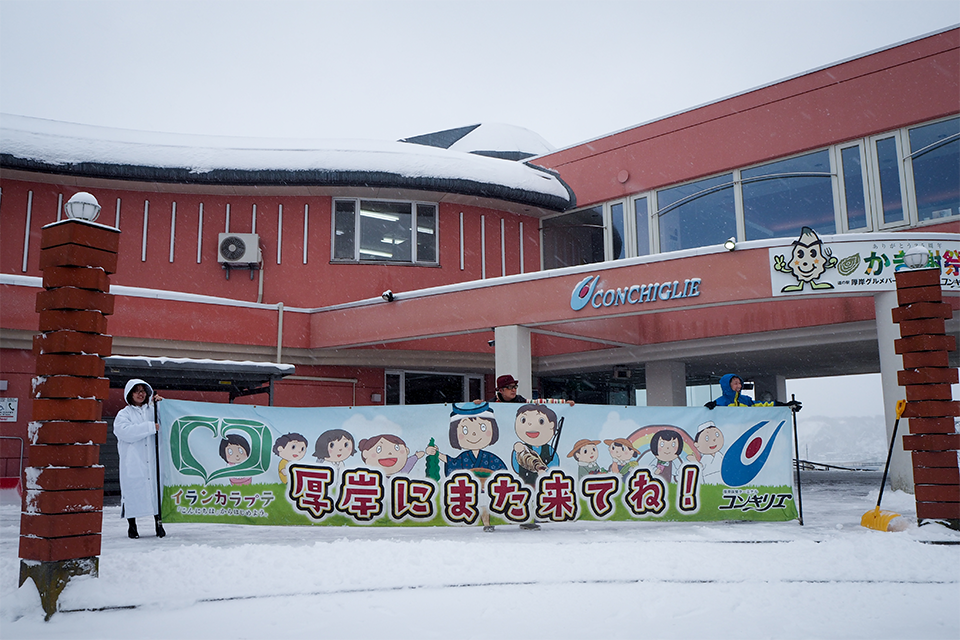 At "Sumiyaki Aburiya," a restaurant on the second floor of Conchiglie, you can pick one of the live fish from the tank and char grill it yourself. As it is indoors, it is comfortable regardless of the weather or the season; it is warm even in midwinter. And it comes with a gorgeous bird's-eye view of the sea! Enjoy a panoramic view of the ocean!!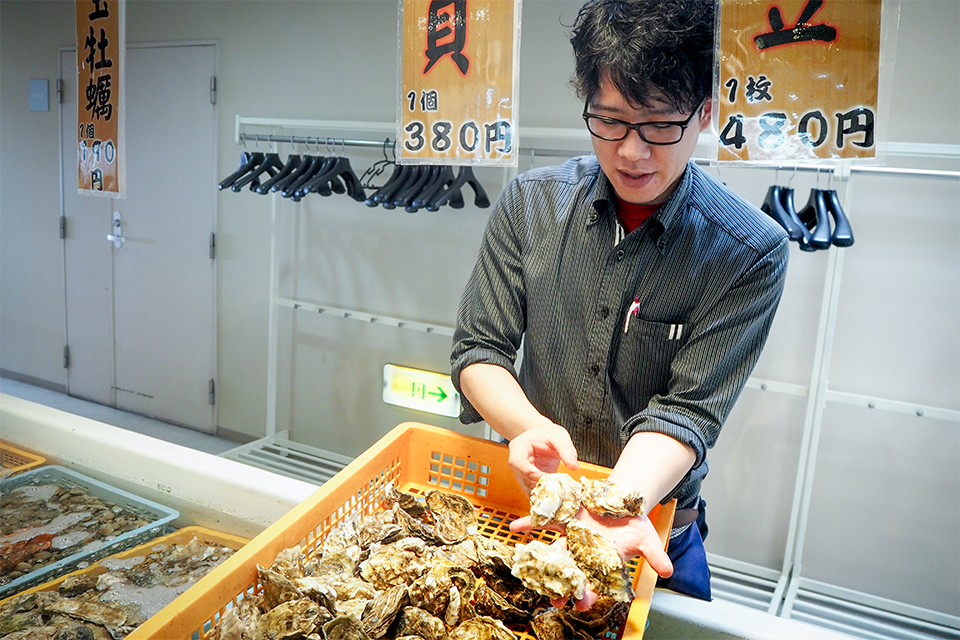 One of the staff from their fresh food department gave us a lecture on oysters. At Aburiya, they mainly use three kinds of oysters, which are "Maruemon," "Kakiemon" and "Benten oyster." All of which are Pacific oysters. Although smaller than Iwagaki oysters harvested on the Sea of Japan side, they are characterized by their firm flesh with rich sweetness and a deep flavor.
First, Maruemon oysters: they are born in Miyagi and raised in Akkeshi. Young shellfish from Miyagi are cultured in Akkeshi for four to five years until they mature. Apparently, most oysters distributed nationwide are Maruemon.
Next, Kakiemon oysters: they are thoroughbred born and bred in Akkeshi. They have adopted the unique yet time-consuming "single seed" method originating in Australia to cultivate the oysters. The common method of oyster farming is "hanging culture," where they use ropes or nets with scallop shells attached to them, which are suspended in the water to allow the larvae to attach to them; with the single seed method, however, single larvae are attached to pieces of crushed shell one by one, so that they mature into oysters with plump, solid and thick flesh, as they grow without being restrained by the shape of the scallop shells.
Lastly, Benten oysters were created with the best qualities cherry-picked from both Maruemon and Kakiemon, with the aim of recreating the natural oysters that used to be caught in Akkeshi. It grows lengthwise and its flesh is meaty and filling. The staff member told us that Benten oysters are currently being test-marketed and have not yet been distributed widely. Perhaps it was because we listened to him so intently, excitedly and enthusiastically that he very kindly pulled out a box containing Benten oysters hidden at the bottom of the tank! Thank you! !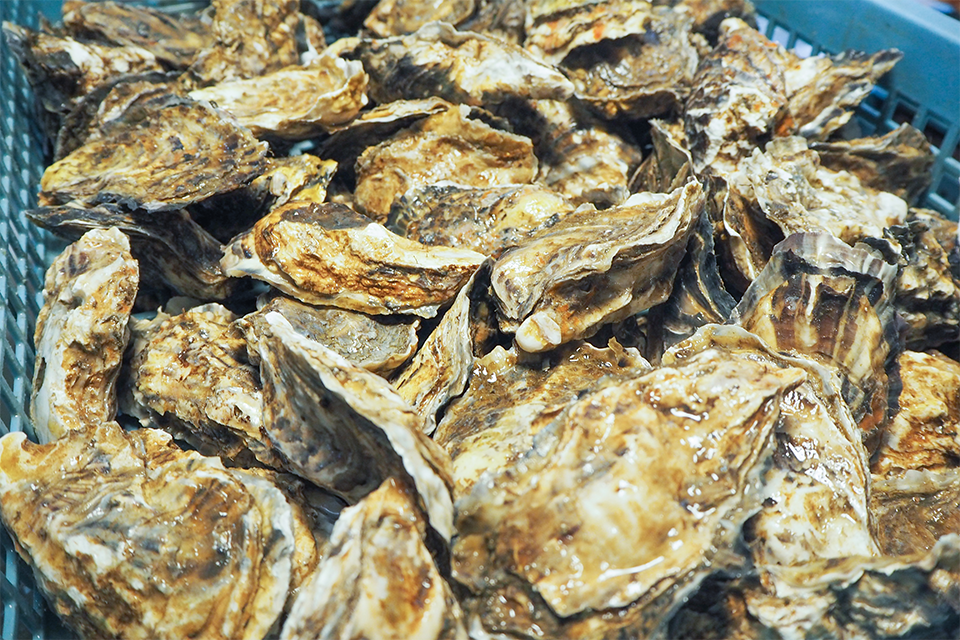 One of the secrets behind the great taste of Akkeshi oysters is the environment in which they are farmed. Lake Akkeshi is a brackish lake that has both fresh water and seawater. The part beyond Akkeshi Bridge is a lake, and the area in front of it is Akkeshi Bay that leads to the Pacific Ocean. There are many bogs around this area, where flows of snow meltwater bring plankton that serve as prey to oysters. Akkeshi oysters grow absorbing all the nutrients from the plankton. Sometimes, however, they are moved to the open sea by the fishermen to firm up their flesh, as they would overeat if they just stayed in the comfort of the lake. A carrot and stick farming method?!
Another great thing about this area is that you can enjoy delicious raw oysters all year round. In Akkeshi, the seawater temperature remains low even in summer as the cold current affects it, which is a factor that makes it easy to control maturation of the oysters. The harvested oysters are cleansed by being kept for 48 hours in a preserve filled with seawater that has been sterilized by UV irradiation. They also conduct food inspections regularly to make sure the oysters are safe for consumption. The staff member says that some people ask them if the oysters become less plump after the sterilization, but apparently just two days of sterilizing does not affect them. He assured us proudly that Akkeshi oysters are the best in Japan!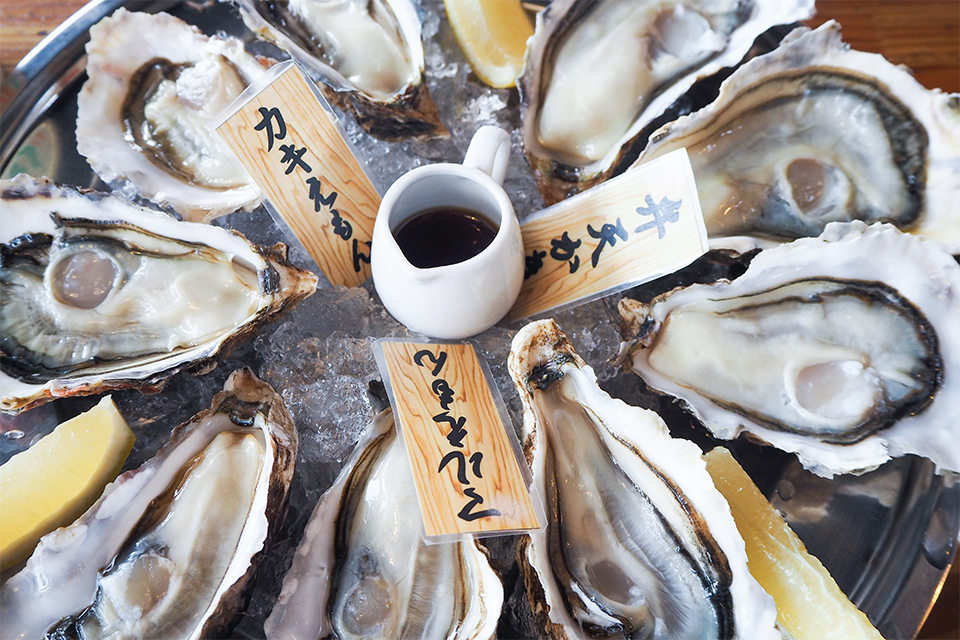 Of course, we tried all three types of oysters that we were lectured on. First, we had them raw. When compared to each other, they all tasted different. Sure they were all delicious, but since all three types are very high-level to start with, my palate naturally became discerning. My favorite was Kakiemon. As I took a bite, I felt like my pupils dilated in awe. The full, juicy sensation that reminds you of a ripe tropical fruit, the milky depth, refreshing taste, and the complicated, multi-layered flavor.
The amalgamation of all these surging into me non-stop! It doesn't smell fishy and it's pure. Its elegant flavor brings an ecstatic yet immoral feeling, making me feel as if I've just eaten something forbidden, and I need to apologize for it. I felt as if I would come under fire from the whole nation shouting "That's not fair!" These oysters are sure to make a name for themselves. After that, I also had rich and flavorful Hemicentrotus pulcherrimus sea urchin from Hamanaka, which made me feel even more like I should be humbly begging everyone's pardon for my impertinence. Incidentally, after having raw oysters, I further indulged in luxury by tasting char-grilled oysters and scallops. My companion, Mr. SASA, said it was also his first time to eat oysters in winter; we were both fixated on the feast in front of us and just ate in silence. We ate like crazy, so much so that we don't remember what we talked about during the meal, and finished all of the food. By the way, I strongly recommend that you try both raw and grilled oysters, as you can enjoy different flavors and textures.
We tried various char-grilled food. Scallops and Shiitake mushrooms were also great.

The premium spot with a panoramic view of the ocean. It is so popular during summer that you have to queue for it.
Sumiyaki Aburiya
Second floor, Akkeshi Flavor Terminal Conchiglie, 2-2 Suminoe, Akkeshi-cho, Akkeshi-gun, Hokkaido, 088-1119
Opening hours:
April to October 11:00 to PM 9:00 (Last order PM 8:00)
November to December 11:00 to PM 7:00 (Last order PM 6:00)
January to March 11:00 to PM 6:00 (Last order PM 5:00)
Closed on Mondays (Open every day in July and August)
TEL: 0153-52-4139
Local whisky is a perfect match for the oysters
Actually, I hadn't had any alcohol up to this point (Aburiya has a variety of alcoholic drinks including Sake made in Hokkaido). The reason why I resisted the temptation was because after Aburiya, we were going to "Oyster Bar Pittoresque" on the same floor. At this bar, you can try oysters sprinkled with whisky in the style of Islay, Scotland, the home of whisky. That's right, I kept it a secret until now, but in Akkeshi, they brew whisky as well.
Apparently, the cold and humid climate and the temperature difference in Akkeshi are very similar to those of Islay, which means it is a suitable environment for whisky brewing. At "Akkeshi Distillery," they started test brewing from 2013, and released two types of whisky in 2018: unpeated and peated. Their whisky is highly acclaimed. Having scored an impressive 88.5 points out of 100 in "Jim Murray's Whisky Bible 2019." A new type of whisky that is matured in barrels made of Japanese oak trees from Hokkaido is set to be released In March 2019. As all the three whiskies are produced in small quantities, they are hard to get in general! But you can have them if you visit here! Having my fill of local oysters with local whisky, admiring the breathtaking panoramic view of Akkeshi Bay, with a weirdly wrong idea in my head that these are all mine… What is this all about? What an extravagant situation. Is this a royal palace?! I just want to stay here all day, tippling and daydreaming…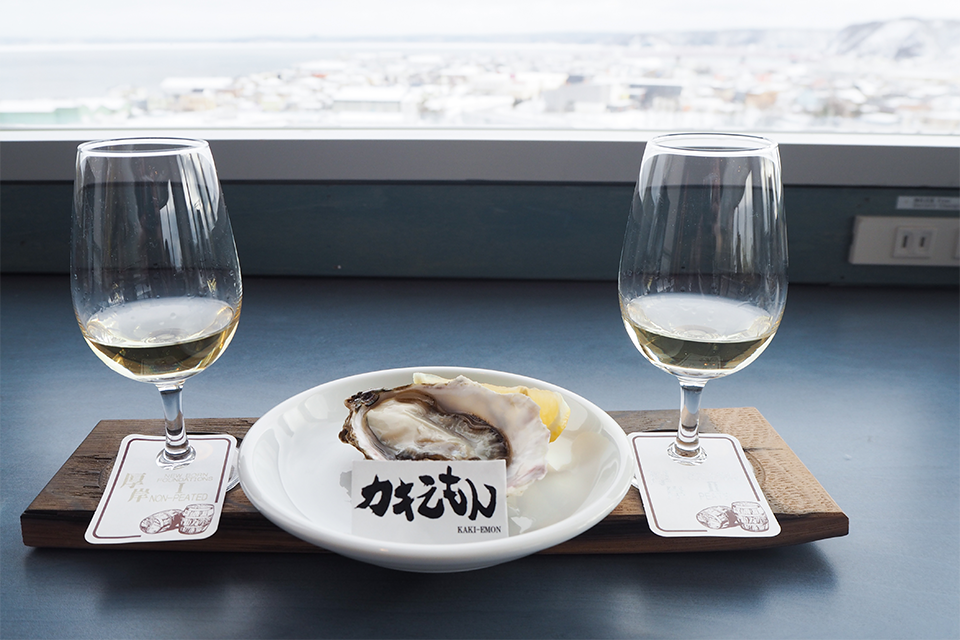 At Conchiglie, they also have other restaurants and cafes, a small aquarium and a shop on the first floor where they have a range of oyster-related products; oyster after oyster, as if it's never enough. You can even try an oyster-flavored soft serve ice cream. Having bought oyster sauce made with Akkeshi oysters as a souvenir, I set off to Kushiro city center, still feeling like spending more time here.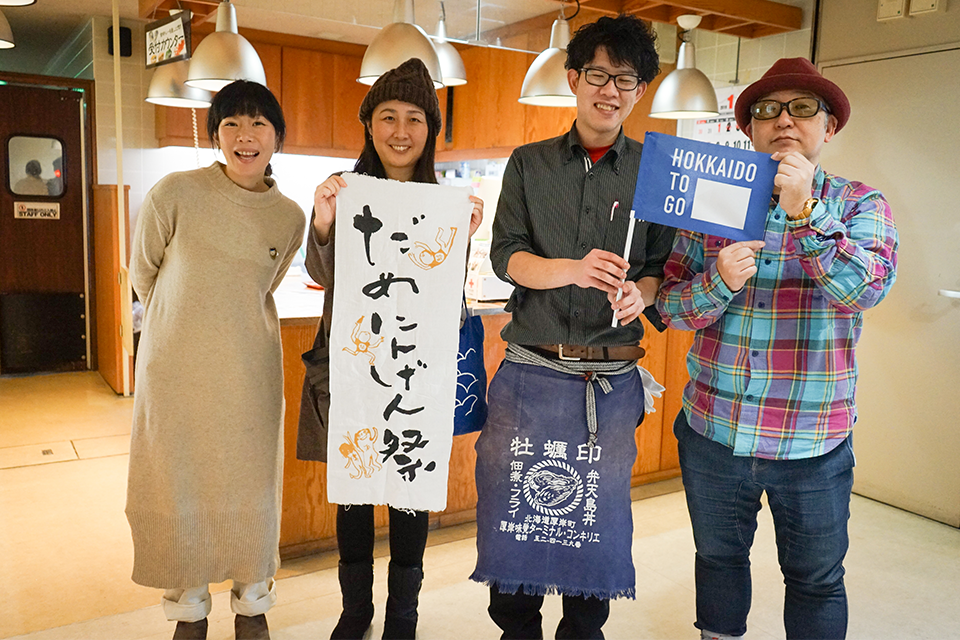 Oyster Bar Pittoresque
Second floor, Akkeshi Flavor Terminal Conchiglie, 2-2 Suminoe, Akkeshi-cho, Akkeshi-gun, Hokkaido, 088-1119
Opening hours:
January to March 11:00 to 18:00 (Last order PM 17:30)
April to October 11:00 to 20:00 (Last order PM 19:30)
November to December 11:00 to 19:00 (Last order PM 18:30)
Closed on Mondays (Open every day in July and August)
TEL: 0153-52-4139
The view from the coastal road to Kushiro from Akkeshi is particularly stunning at dusk. Kushiro is famous for its beautiful sunset - counted as one of the world's top three. However, we were hit by rare heavy snow that day (as Kushiro is facing the Pacific Ocean, it's usually mostly sunny during winter), so we had a rare view on the road, sort of. The sun had already set when we arrived in Kushiro; now, time for our night out…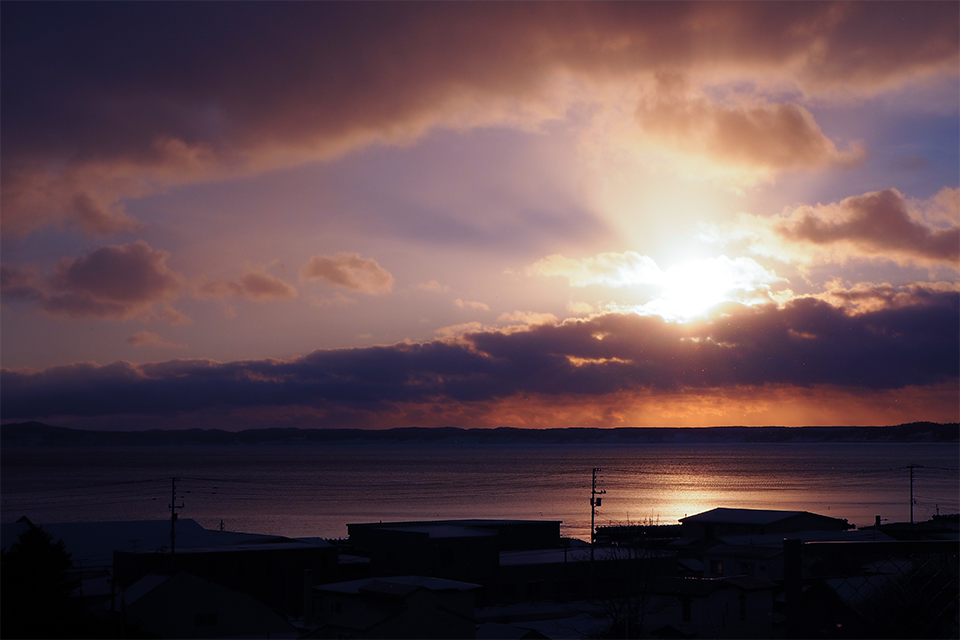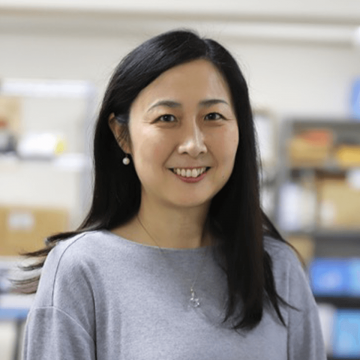 Kaori Ezawa

A writer who mainly writes about food, travels and crafts. She runs "Dame Ningen Matsuri (Losers' Festival)," an organization whose main activity is visiting sake breweries. Her main works include "Wondering about in Aomori and Hakodate - Crafts, architecture, gourmet food" (Diamond Inc.), "Travelling in Sanin - In search of local crafts and food," "Travel guide for the drunk - Wines, nibbles and crockery" (Mynavi).

Instagram:caori_ez_japon