ABOUT
Each pie is carefully made, using amply only ingredients produced in Yoichi.
Simplicity and gentle warmth in the design

Yoichi Hamanasu, a Type B Continued Employment Support business, provides a workplace for those hoping to become socially independent, as well as training aimed at improving participants' knowledge and abilities necessary for employment.
Warmth can be felt in the apple pie, tomato juice, and jams sold that are carefully made by hand. Committed to using local ingredients, they are made using fruits and vegetables all produced in Yoichi, and are free of additives, coloring and preservatives. These products are available at Hama Cafe, which is a 3-minute walk from Yoichi station.
The packaging of Yoichi Hamanasu's very popular "Apple pie" will be redesigned. From an indifferent vinyl bag to a soft package with warmth. The product name has also been changed from the katakana "apple pie" to the hiragana-mix "Ringo pie." Like the product, the packaging aims for a familiar softness.
Also, to increase fans of the Ringo pie, a Facebook page has also been opened to share the product's charms, and includes basic information about Ringo pie, profiles of the producers, and about the care that goes into making the product.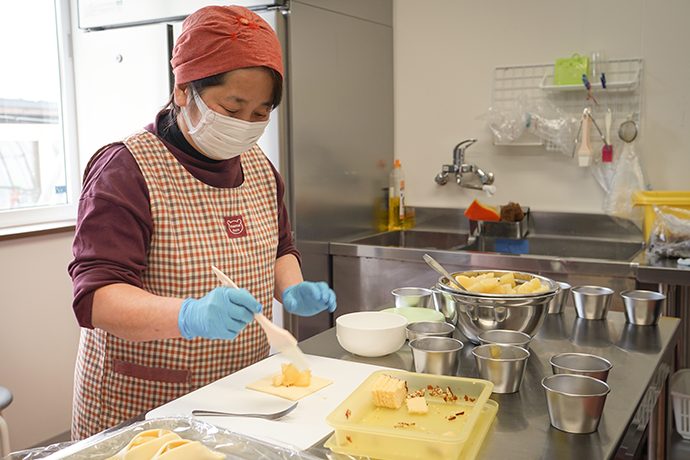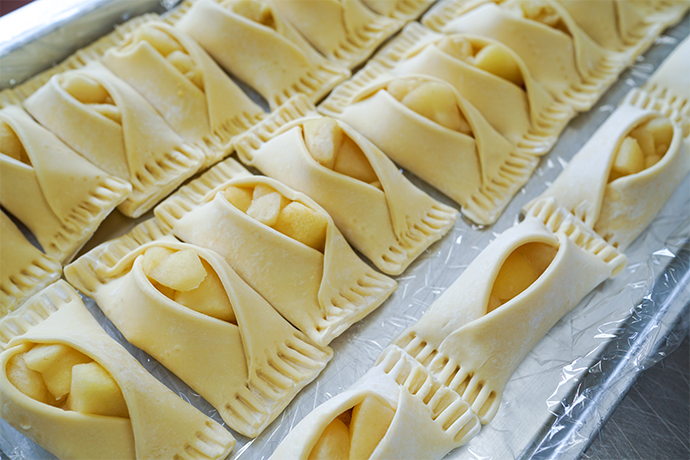 PRODUCT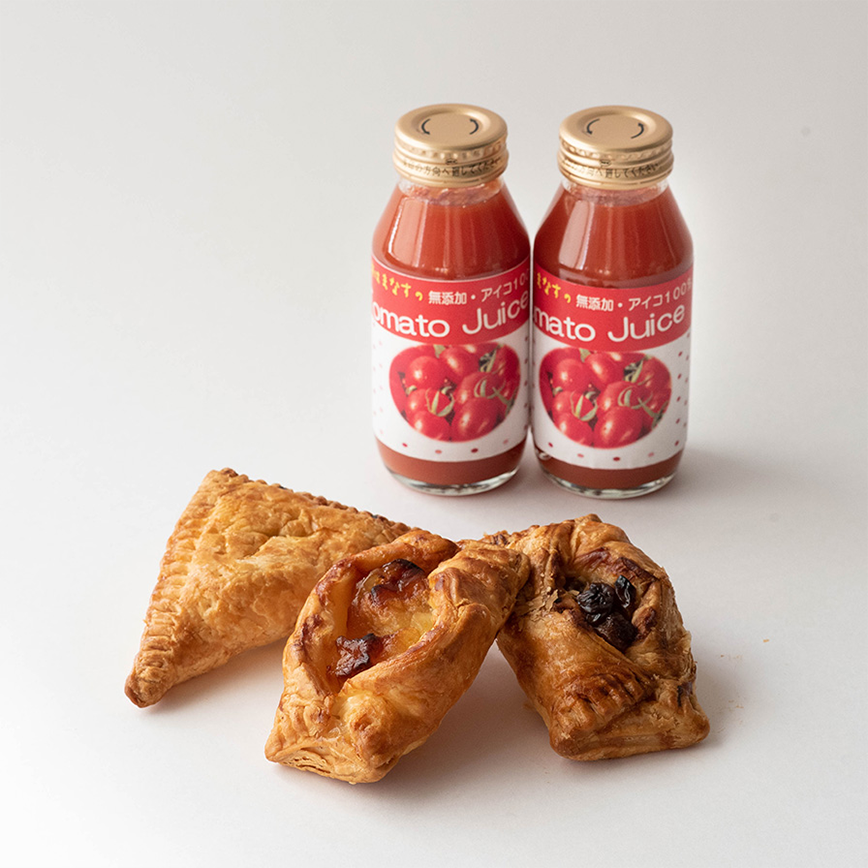 The crisp texture is addictive.
Palm-sized, just-baked ringo pie
Using 100% Yoichi-produced apples, Yoichi Hamanasu's ringo pies are each baked carefully. The diced apples used generously in the product are not too sweet and the pie's appeal is in both looking and tasting delicious. 10 thousand are produced annually, and it is a popular product that becomes sold out during Yoichi's festival.
Being selective of ingredients, it uses New Zealand pie sheet made from 100% butter and no margarine. With no additives or coloring, it is also safe for children.
Ingredients
Yoichi-produced apples, butter, pie sheets produced in New Zealand. Flour contained in ingredients.
DESIGN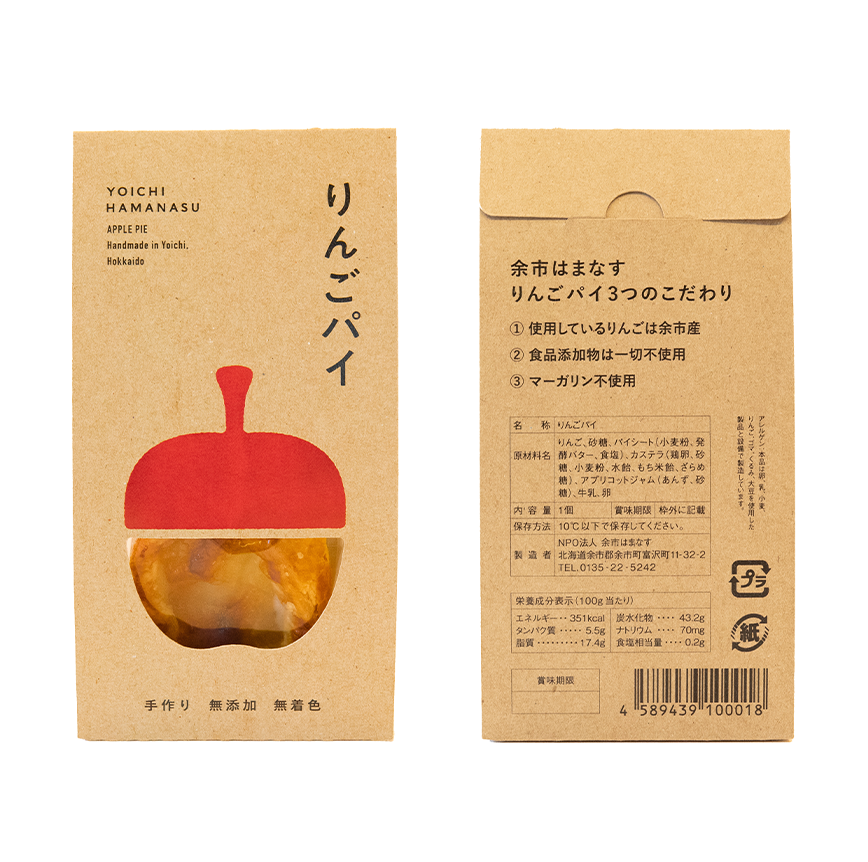 CONCEPT
A simple and friendly package
that communicates a handmade-feel

Yoichi Hamanasu's Ringo pie is a long-selling product loved by the locals. However, it had been mostly sold at functions, such as events. Therefore, it was packaged in a basic vinyl bag. But since this does not express the warmth of Yoichi Hamanasu, it has been redesigned into a simple and friendly package with a handmade feel. Purposely rejecting a decorative design, the company decided on an simple design with many margins. It presents a warm and friendly impression to those who take it in hand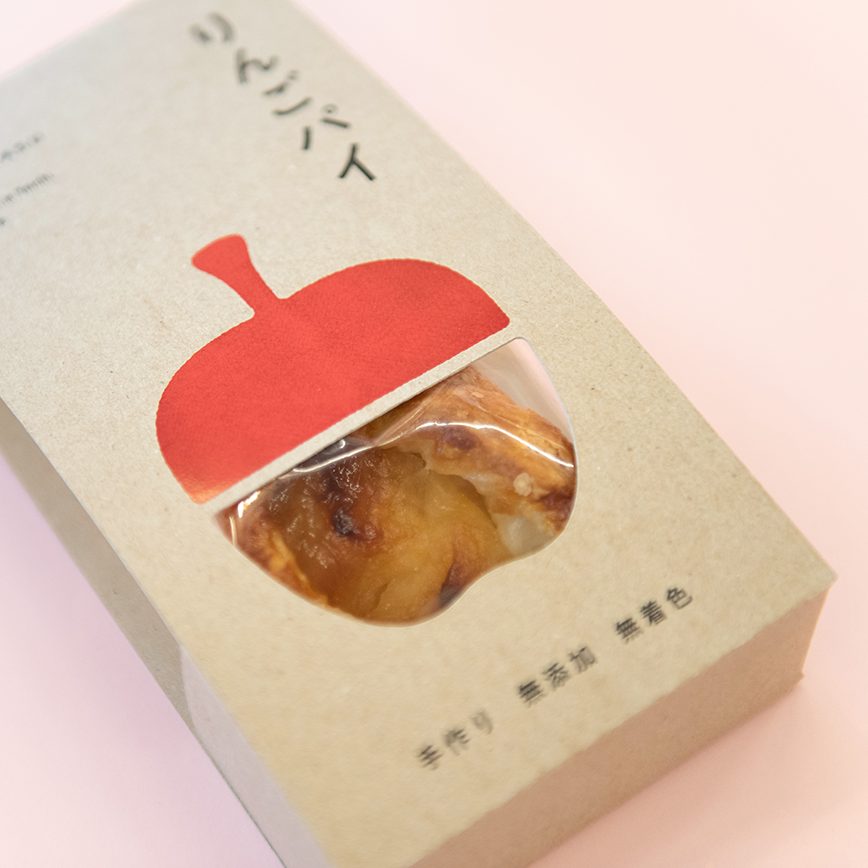 PACKAGE
A package considering the work efficiency
of facility users
From the making of the product to its packaging, everything is done by facility users, so their work efficiency was considered. The vinyl bag for the Ringo pie is sealed by wrapping paper seal around it and, for the package, a box that can be easily assembled by using a guide is used. The specifications were modified to enable everyone to assemble the package.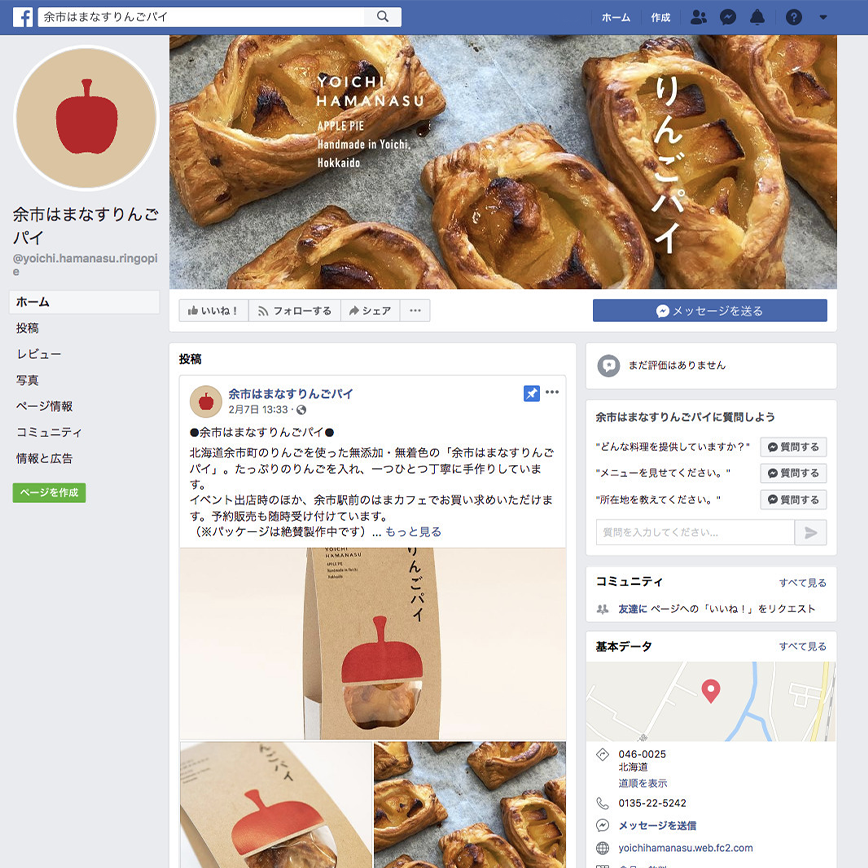 COMMUNICATION
Sharing activities through the charms of ringo pie.
Developing new media about Yoichi Hamanasu

Coinciding with the new package design, the company has also opened a Facebook page. Posts are regularly made for Yoichi Hamanasu's ringo pie to be better known, like ringo pie sales and event information and the story of the beginning of ringo pie. Opportunities for users to learn about the product's charms will be increased from now on, as will the number of users. New media will be developed so that the activities of Yoichi Hamanasu can be glimpsed through ringo pie.
MEMBERS
Yoichi Hamanasu

Shun Morikawa

Package Designer

Yusuke Otake

PORT Web designer

Mayu Sasaki

Loftwork
CONTACT
CONTACT

Yoichi Hamanasu (NPO)
11-32-2 Tomisawacho, Yoichi-cho, Yoichi-gun, Hokkaido

TEL:0135-22-5242
FAX:0135-48-6030