"Can you tell us about your favorite spots in your town and some localsouvenirs?"
We believe that locals know best about the latest attractions in their home town. For this article, we conducted a survey of Asahikawa residents. They suggestedplaces for us to visit and what souvenirs to take home, as well as telling us about their personal hobbies and points of view.
\Person giving recommendations on Sapporo/
Mr. Chien Shih Yao Planner at Gear8 Inc.
A native of Taipei, Taiwan. He has passed the Hokkaido Tourism Master Test. He fell in love with Hokkaido while watching the film "Bread of Happiness" when he was at university. After graduating from university, he came to Hokkaido for the first time on a working holiday. After that, he took a postgraduate course in tourism at Hokkaido University. His main responsibilities at work include making suggestions for foreign tourists in Japan and editing for "Trippino HOKKAIDO", a medium for foreign tourists in Japan. He has visited 60% of 179 cities, towns and villages of Hokkaido though he doesn't have a driver's license. Since putting on weight from eating Hokkaido delicacies, he is now trying to maintain good health by going for bike rides and playing table tennis on weekends.
instagram:silvainchien
Mr. Chien's favorite spots
pool
Once you leave Nijo Market after passing through Tanuki Koji, you can find "pool," a café with a tranquil ambience, in contrast with other lively eateries and shops in the neighborhood. Inside the café, one of their unique, antique chairs makes a charming squeaking noise when you sit down on it.
After having pasta with plenty of vegetables for lunch, I enjoyed a glass of iced coffee while watching the cityscape… It was so refreshing that I felt as if I'd just taken a dip in a pool – this was when I realized why this café was named "pool."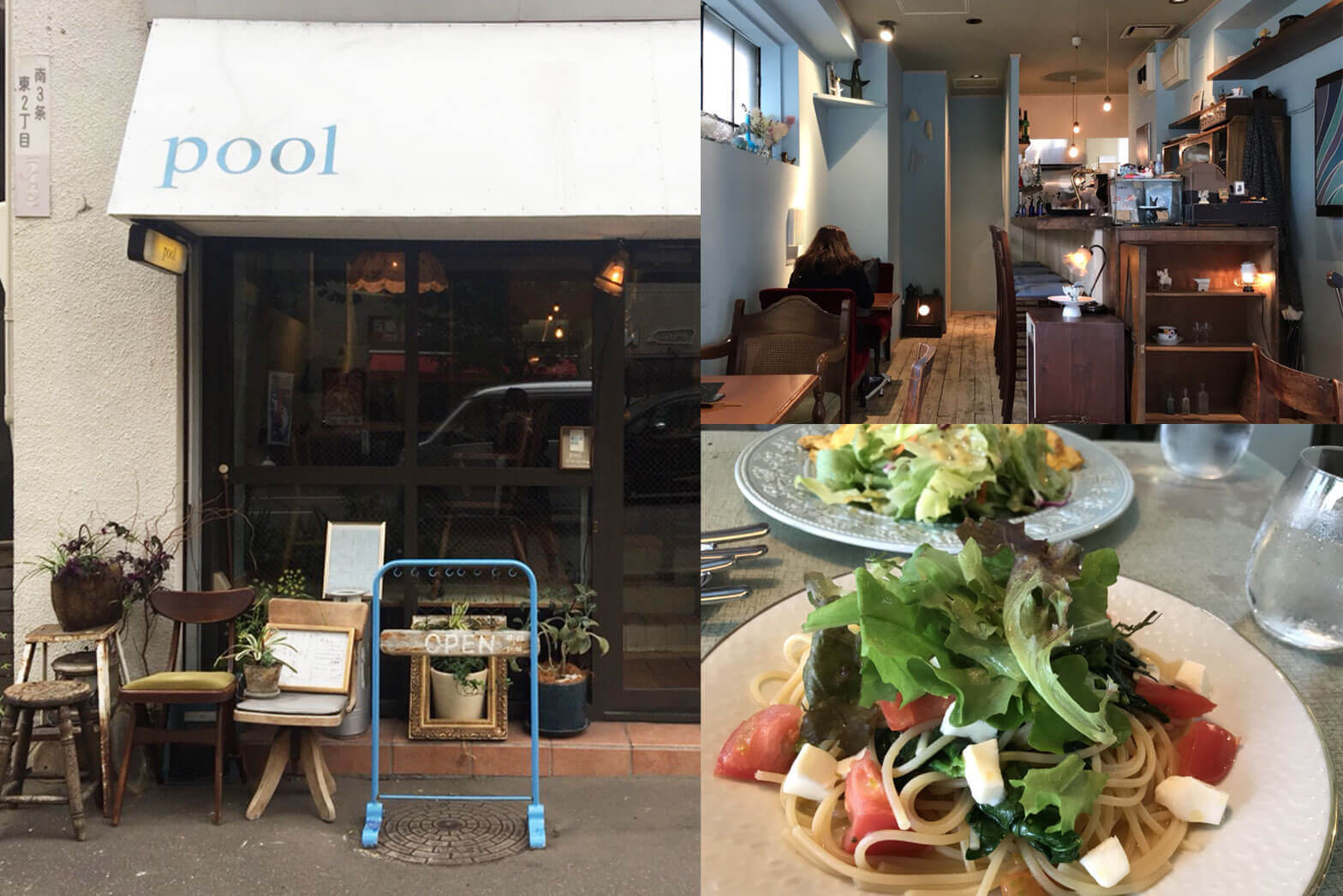 Little Juice Bar * Under renovation
"Little Juice Bar Sapporo Main Store," near Nijo Market, is a shop converted from a warehouse made of Sapporo freestone, which is more than 130 years old. In contrast with the historic ambience of the shop's exterior, it has a
stylish interior using tropical colors.
Their most popular menu, "Ichigo Kezuri," is made of thinly sliced frozen strawberries topped with milky mousse. They also set up a shop at Rising Sun Rock Festival, the largest summer festival in Hokkaido, which is very popular as well.
(Indeed, that summer left me with a sweet and sour memory like Ichigo Kezuri…)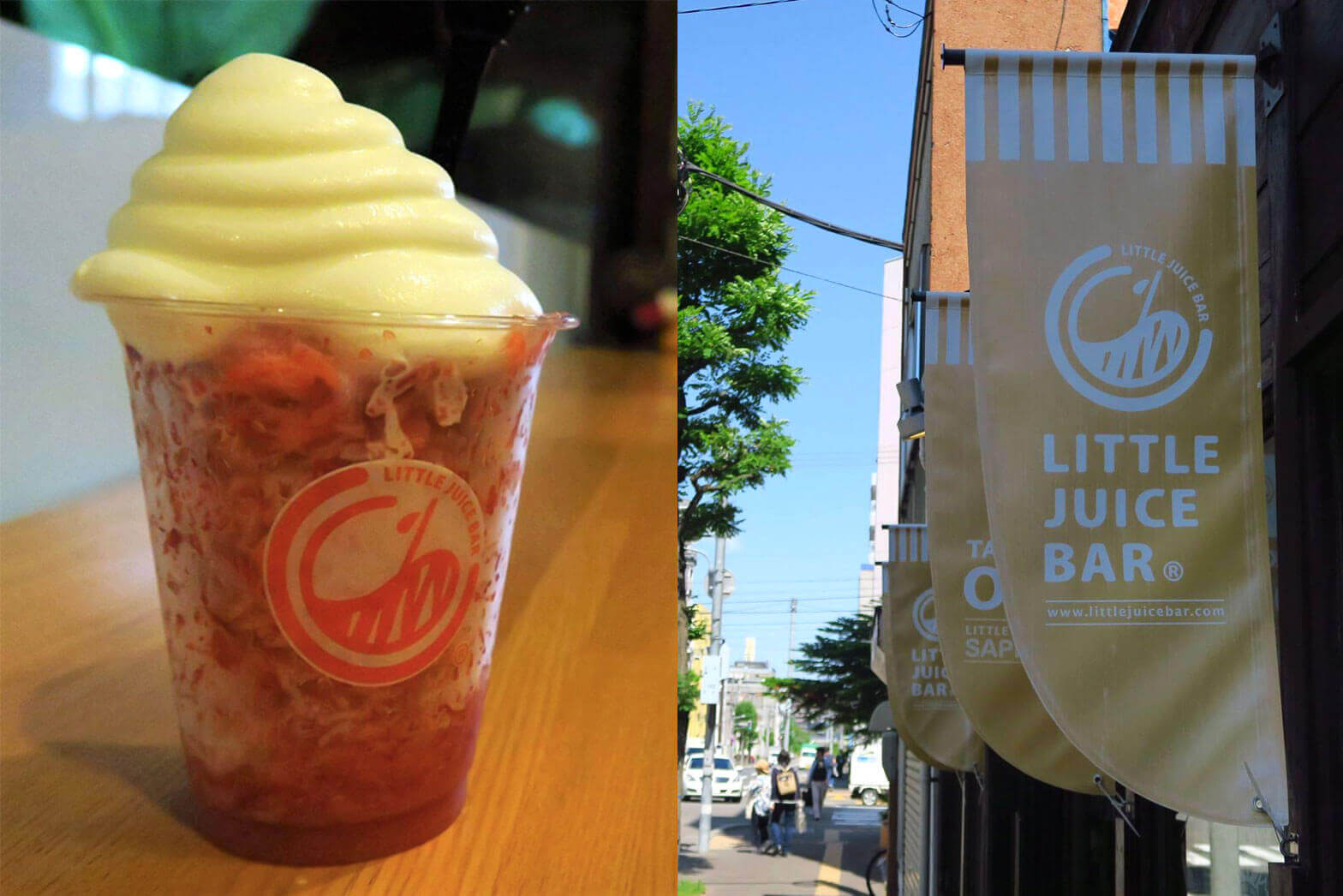 Editor's Note
This shop is currently being renovated. Please check the website of the shop!
Cho Umai Horumon Damashii Jungle (Extremely good grilled innards spirit - Jungle)
When I first saw the signage with an illustration of a red tongue licking lips, I thought it looked rather weird. However, once you try the Yakiniku (barbeque) at "Jungle," you will see why they used the illustration of a licking tongue for their signage.
Thick slices of hanging tender grilled beef on a clay charcoal stove are so juicy, we always end up fighting over the last piece. They have tables on the terrace
available only in summer. If you want to have a fun night in the Nijo Market area, this is where you should be.
*By the way, the illustration on the signage is the Rolling Stones' tongue and lips symbol. I guess whoever came up with the idea of using this symbol must be a rock lover.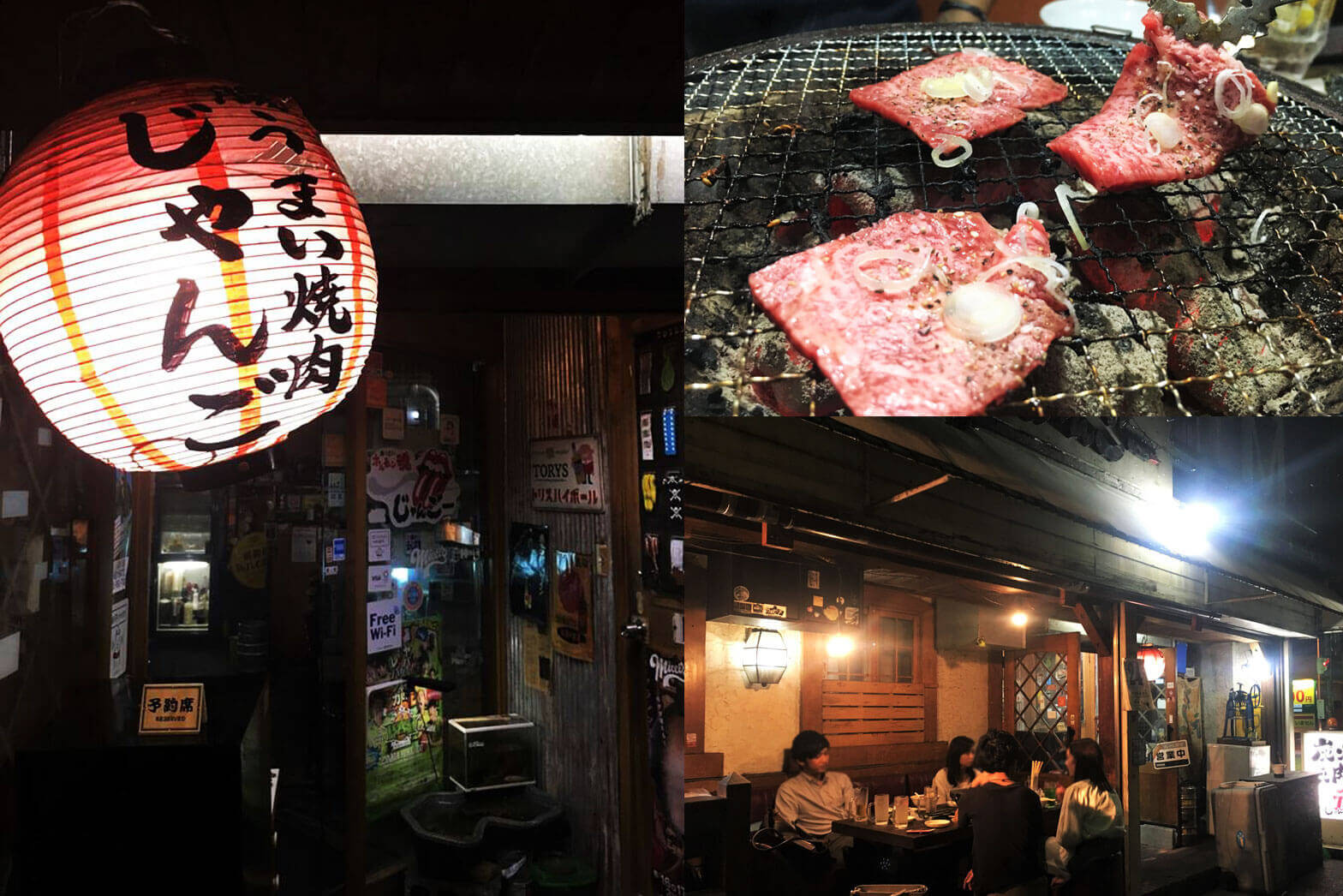 Cho Umai Horumon Damashii Jungle

2-1-3 Minami 2-jo Higashi, Chuo-ku, Sapporo, Hokkaido 060-0052(GoogleMap)
Opening hours: 0:00 to 24:00 (Lunch time 11:30 to 14:30) *Open 7 days a week
Tell:011-219-4366
http://yaki29jungle.webcrow.jp/
Tsuki to Taiyou Brewing
Located along Sosei River near Nijo Market, "Tsuki to Taiyou Brewing" (Moon and Sun Brewing), is a bar offering craft beers. The big tanks and the white Noren curtain mark the entrance to this place.
There is a workshop attached to the bar, where they make home-brew beers. They offer different craft beers depending on the season, so that you can have a taste of the "here and now" in Hokkaido.
There have been times when I went into the bar while the moon was out, and then the sun replaced it before I knew it.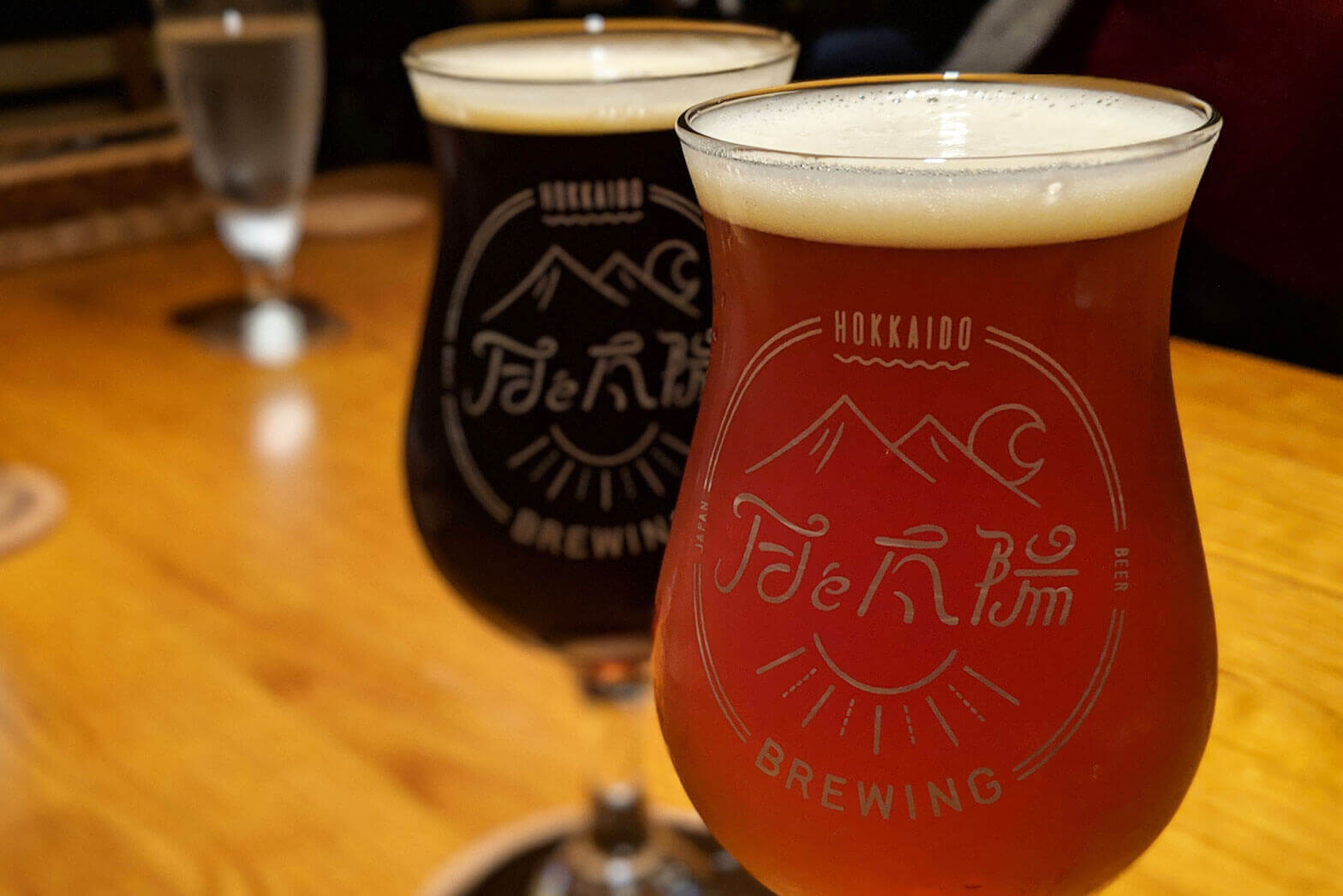 Tsuki to Taiyou Brewing

1 Minami 3-jo Higashi, Chuo-ku, Sapporo, Hokkaido 060-0053(GoogleMap)
Opening hours: Monday to Saturday 17:30 to 24:00; Sunday 17:30 to 23:00 (Last Order 22:30) *Open from 15:00 from July to September (irregular holiday)
Tell:011-218-5311
http://moonsunbrewing.com/
Favorite souvenirs
A bar of chocolate by Saturdays Chocolate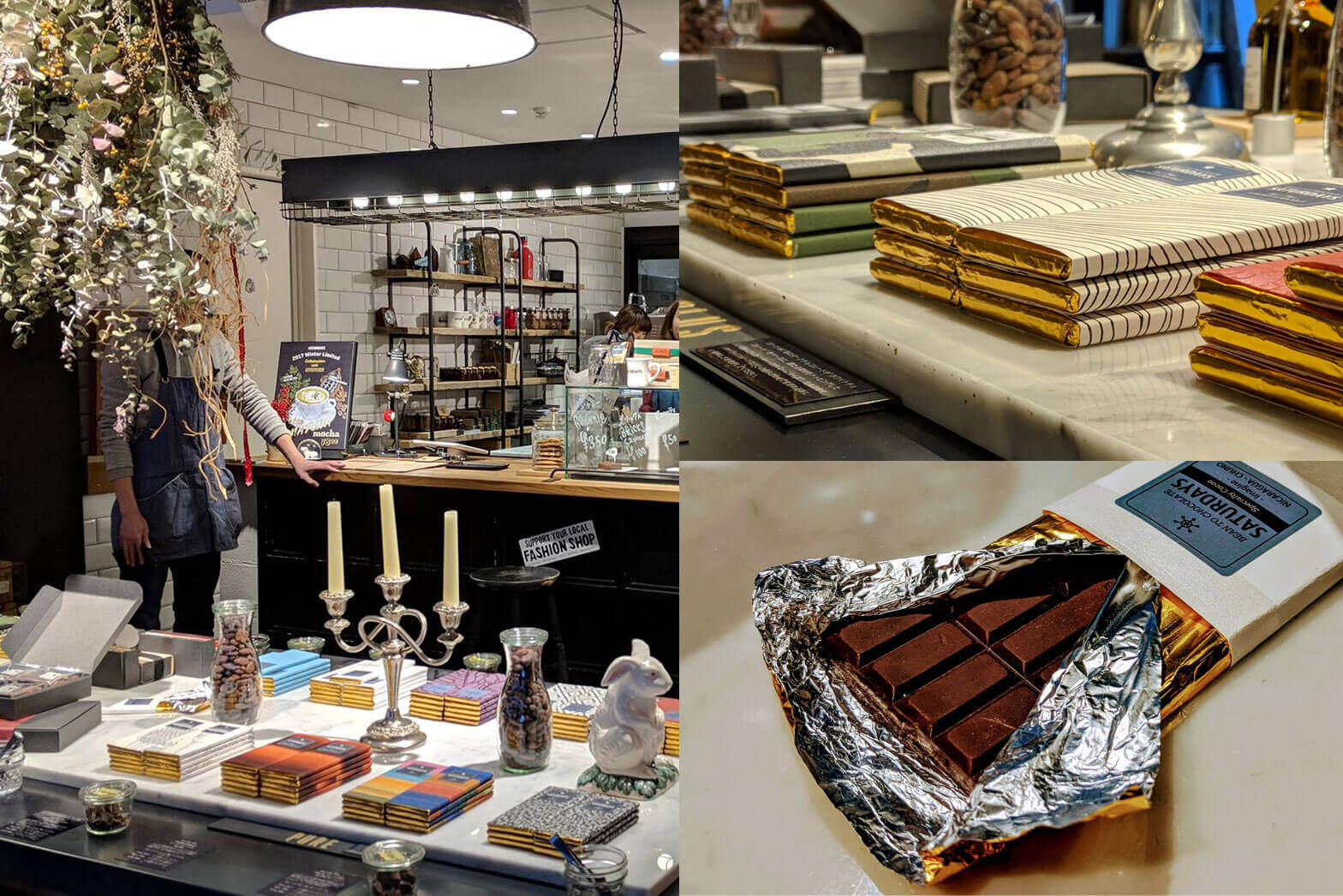 If you want to buy a souvenir around Nijo Market, make it chocolate rather than seafood! You might find it strange to find sweets at a market, but the truth is that this chocolate shop has a number of fans within Hokkaido and around the world, regardless of gender or nationality.
It is the first shop in Sapporo offering Bean to Bar chocolate. The colorful packaging makes their chocolate a perfect souvenir. Whenever I feel like having a little bit of good quality chocolate, I always come to Saturdays Chocolate.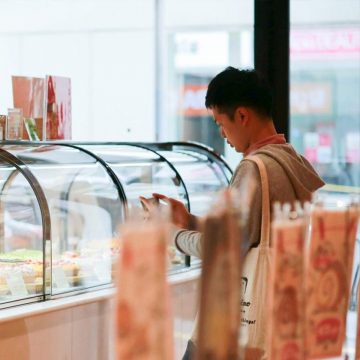 Chien Shih Yao

Planner at Gear8 Inc.

A native of Taipei, Taiwan. He has passed the Hokkaido Tourism Master Test. He fell in love with Hokkaido while watching the film "Bread of Happiness" when he was at university. After graduating from university, he came to Hokkaido for the first time on a working holiday. After that, he took a postgraduate course in tourism at Hokkaido University. His main responsibilities at work include making suggestions for foreign tourists in Japan and editing for "Trippino HOKKAIDO", a medium for foreign tourists in Japan. He has visited 60% of 179 cities, towns and villages of Hokkaido though he doesn't have a driver's license. Since putting on weight from eating Hokkaido delicacies, he is now trying to maintain good health by going for bike rides and playing table tennis on weekends.

Instagram: silvainchien